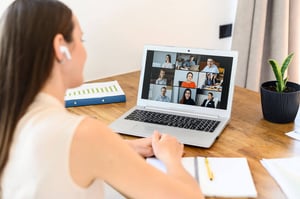 As your organization continues to work from home, you've no doubt had to adopt new ways of conducting business. One of the biggest changes is meeting through tools like Zoom, Skype or Microsoft Teams instead of in the office conference room.
Although the ability to conduct business from anywhere is a great benefit to organizations, video meetings can take their toll, especially when you're participating in several calls throughout the workday.
If you notice that you're exhausted after a day of video calls, you're not alone. What you're experiencing is known as Zoom fatigue, and it afflicts everyone in a few different ways.
In this article, we describe five reasons you experience Zoom fatigue, as well as provide some pro tips on how to keep video calls from draining your energy.
What is Zoom fatigue?
Zoom fatigue is the phenomenon that occurs after you've spent a large part of your day in virtual meetings and video conferences. While it's named after Zoom, the most well-known video teleconferencing platform available, you still feel the mental and physical exhaustion no matter what software you're using.
The issue is exacerbated by the fact that, amidst the coronavirus pandemic, we're also using these tools to stay in touch with family and friends. So, even if you've had a day of business meetings online, you're using the platforms for your personal life, too. Your brain and your eyes can't catch a break, making you feel exhausted—and stressed out.
Why are we experiencing Zoom fatigue?
Zoom fatigue stems from the new ways in which you are forced to communicate via video calls. Below, we've detailed five of the causes.
1. Video calls require greater concentration
.
When you're on a video call, several things are happening. You're listening to a coworker talk through your computer's speakers, and you're communicating through the microphone, but you're also worrying that that technology could stop working at any minute. Those concerns are heightened if you've faced issues with the tech before.
On top of your anxieties about the technology, you're also straining to listen and comprehend the speaker's message itself. However, it's not a normal conversation, as you're only able to listen to the words. Since you're only seeing participants from the shoulders up, you can't detect body language, which comprises 85 percent of communication. That means that all your concentration is auditory, and trying to process the message solely on hearing it becomes exhausting, fast.
Pro Tip: If you're arranging video calls, have a plan for what the conversation should look like and do your best to stick to the agenda so meetings aren't lasting longer than they should.
If you're not leading the call, don't be afraid to take notes and ask questions if you missed part of the conversation. Video conferencing tools have chat features, and you can "raise" your hand if you have a question.
You may also benefit from recording video calls, as everyone involved could also be feeling drained themselves. If you record a session, anyone can return to the information at any time.
2. It's easier to lose focus during a video conference
.
As if working from home wasn't already distracting enough for many—video calls add another factor into the equation. How many of you have tried to multitask during a video call, like answering emails, sending off a quick message in Slack, surfing through industry articles or working on projects?
It's not difficult to lose complete focus on the subject of the meeting, and trying to "alt-tab" your way through your to-do list is a surefire way to be even less productive. In fact, multi-tasking can take away 40 percent of your productive time, and it can cause memory issues, too, according to Harvard Business Review.
Pro Tip: Reduce on-screen stimuli during video calls. That means turning off notifications for email and instant-messaging platforms. Don't have projects, documents or numerous other windows open during the call, and devote your attention only to the conversation.
3. The constant gaze is unnatural and uncomfortable
.
After a while, talking during video calls makes you feel like you're on-stage, performing in front of everyone. In a way that's true, and no matter how large the group of participants is, you're always being looked at by at least one other individual—even when you aren't the person currently speaking.
You've likely been conditioned that if you're on a video meeting, your eyes need to be on the screen at all times, or you're going to be accused of daydreaming or doing something else. However, this isn't how people conduct normal conversations. You don't just stand a couple feet away from a person and stare at him or her the whole time.
The entire process of a Zoom call feels unnatural, and both the feeling of being watched and needing to watch yourself stresses out even the most extroverted people on the call. Plus, you can't make eye contact with a dozen people at once.
Pro Tip: Get comfortable with occasional glances away from the camera during meetings. Not only does this give your eyes a break and helps prevent straining them, it also feels a bit more natural and less uncomfortable for everyone.
One thing you can try is to follow the 20-20-20 rule. This involves you looking away from your screen to something that's 20 feet away for 20 seconds, and you repeat that action every 20 minutes.
Use the Speaker view instead of Gallery view on Zoom calls. This more closely emulates an in-person meeting, during which one person speaks, your gaze falls on them and everyone else is on the periphery, still there but not your prime focus.
4. Self-view
can make
us self-conscious.
Remember what I mentioned about multi-tasking up above? When you're on a video call and haven't turned off the self-view window, it can feel like you're watching a television screen and looking at your own face in the mirror—at the same time—but you're never quite focusing on one or the other.
Additionally, when you have that window of your own face on the screen, you spend most of the time looking at it instead of the other participants of the meeting. And, as you look at the self-view, you start to worry about how you're coming across to others. You become distracted by things like the bit of clutter on the shelf in the background or a few flyaway hairs, and before you know it, you're less inclined to focus on the actual conversation.
Pro Tip: Turn off self-view in your video call settings. It'll improve your focus, reduce even more on-screen distractions and help you feel less self-conscious about being on video.
5. All silences in video calls seem awkward
Sometimes virtual conversations are great; everyone is engaged and throwing their best ideas forward, but then there are other days where everyone just wants to get meetings over as quickly as they've started. There are no pauses to consider responses, no time to brainstorm or mull things over. No one wants the conversation to fall silent, because then you're just staring at each other and waiting for something to happen. In a Zoom call, everyone avoids any quiet pause or moment because the silence is awkward—really awkward.
Pro Tip: Getting used to this one might happen the more you participate in Zoom meetings, but it's okay if everyone doesn't speak instantly and immediately. People generally need a few moments to think about a response, some more than others. Provide that thinking time and don't view the silences as a bad thing. They might be uncomfortable, but you'll become accustomed to it over time.
A few additional tips for
reducing Zoom fatigue
Take breaks between meetings.

Don't hop from call to call without giving your mind a short respite in between. Schedule meetings for 40-50

minutes

to avoid back-to-back Zoom calls.

Consider alternatives.

Not every meeting has to be a video call. Emails, instant messages or even traditional phone calls are still viable ways to communicate with coworkers. If you're working on projects together, use

cloud solutions

like Microsoft 365 to allow real-time collaboration.

Don't make virtual socials mandatory.

If your team members are already going through days full of meetings, don't stack more

required,

virtual calls on top of them after hours, even if they are fun events like trivia nights or happy hours.

Make events like these optional, so your employees can join i

f

they want, but don't feel like they

must

.
Conducting better video meetings doesn't have to be difficult
Video meetings have become an everyday occurrence for anyone who's been working from home, and we know how draining a day full of them can be. So, the next time you have a day filled with virtual meetings, put some of our pro tips to the test and find what works for you. Or, if you have any specific questions about using teleconferencing software, contact CoreTech today!
In the meantime, be sure to check out our free checklist for enabling a remote workforce. Inside, we detail what you need to consider for getting started with remote work—and how to make sure it, well, works for your business.