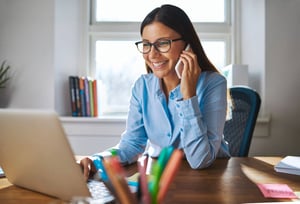 You have no doubt seen the acronym, UCaaS, but what does it stand for and what exactly is it?
UCaaS – Unified Communications as a Service – is a hosted or cloud-based communications solution that supports six communications functions.
We will look at each of these functions and how they can benefit your business.

1. Voice and Enterprise Telephony
This includes your typical VoIP voice communications and PBX features such as making and receiving voice calls, Transfer, Hold, Do Not Disturb and dialing by extension to co-workers.
There is no capital expenditure for the communication platform as it is owned, operated, maintained, updated, and delivered by your UCaaS provider, all for a monthly subscription.

Extend your Call Center or Helpdesk hours without incurring overtime costs by hiring staff in different time zones. If your local area is experiencing a low unemployment rate, increase your pool of potential workers by expanding your search to markets with a higher unemployment rate.

2. Meeting
This includes audio/video/web conferencing along with collaboration tools such as shared desktop and files.
With many companies continuing to have employees work from home, Meeting provides almost the same functionality as meeting in person. You still have the face-to-face communication and the ability to share documents and workspace.
3. Unified Messaging
Voice messages are converted either to text, using transcription, or to audio files and, along with email and fax, are delivered through one interface where users can read or listen to all messages without having to switch to different applications to access the different types of messages. These messages can be accessed using a variety of devices.
Increased efficiency and quicker response as you don't have to call into voicemail to see if you have messages while on the road; they are delivered to you wherever you are.

4. Instant Messaging and Presence
These features indicates availability or lack thereof to the rest of the team.
Customers receive answers and/or problem resolution on the first call, as experts and field personnel are more accessible, resulting in higher customer satisfaction.
Speedy decision-making with more accessible personnel.

5. Mobility
The use of desktop and/or mobile clients or apps provides the same high level of communication when you are not in the office, perfect for sales or field personnel. Can be used in conjunction with or in place of a desktop telephone.
Sales personnel are often out of the office and consumers are impatient. Often, they will continue to look for a live person they can talk to instantly for the product or service they are looking to buy. Make your Sales team more accessible and see potentially increased sales.

Communication Enabled Business Processes and Apps
This is the integration of communications capabilities into software-enabled business procedures and applications with the goal of reducing the human latency that exists within a process flow.
Increase call handling efficiency with Contact Center, CRM or IVR

Optimize operational efficiencies; avoid bottlenecks in business processes.
UCaaS solutions offer many enhanced features and capabilities to take your business communication even further.
Do you have questions about any of the benefits listed above? Contact CoreTech's expert team today; we're happy to answer them and show you how your business can grow using a UC solution!