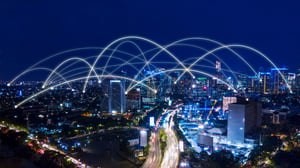 A reliable and secure internet connection has become critical in today's business world, no matter what industry your organization is in. And, there are several aspects that could be slowing down your network or clogging up your connection.
You might have email hosted on Microsoft 365, have servers in AWS or Azure, use a cloud-based phone system, have several branch locations that need to exchange data or you have many staff members working remotely.
That's a lot of traffic being routed across your organization, and you may have already implemented a multi-WAN solution to provide Internet redundancy, but there is a more flexible service that can provide better performance and security: SD-WAN.
What is SD-WAN?
SD-WAN (Software-Defined Wide Area Network) is a software-based routing solution that automatically distributes network traffic across multiple WAN connections based on the condition of the connections and policies you define.
SD-WAN monitors your network connections, captures near real-time performance data and uses this data to make routing decisions. It supports multiple connection types such as broadband internet, MPLS, LTE, and more.
Too much network traffic? SD-WAN can redistribute it.
SD-WAN is able to do dynamic path selection, which allows you to steer and route traffic in real-time, meaning that you can easily balance out your connections.
If a WAN link fails or becomes congested, SD-WAN can automatically send traffic over another WAN connection. It can also distribute traffic to a different path based on the data traffic type, application, user, source/destination or other parameters set through your policies.
Ensure your most important connections are always up and running.
In addition, SD-WAN also supports policy-based management and quality of service (QoS) policy.
SD-WAN can send traffic, such as your VoIP phone system and video conference platforms, which are high-priority and latency-sensitive traffic, on a faster link while keeping other lower-priority traffic on less expensive WAN connections.
Configure your traffic distribution based on security.
SD-WAN can also distribute traffic based on security requirements. This means, for instance, that direct data traffic that has a higher security requirement can be sent to a dedicated link.
SD-WAN can also be integrated with third party services such as WAN acceleration or a cloud-based security service to improve network and application performance and security.
Are you ready to talk about network configurations for your business?
SD-WAN is a cost-saving solution that provides resilience, security and quality of service for many organizations. It also provides quick deployment and centralized management, which greatly improves IT efficiency and agility.
Is your organization's Internet connection able to handle the increasing demands of doing business online? If not, we'd love to learn about your needs and how we can help you improve performance and productivity. Contact us today to speak with our expert team!