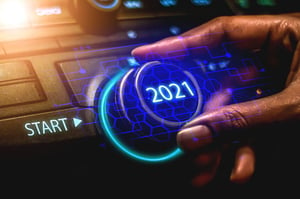 What can you expect from outsourced IT providers in the coming year? Knowing this information will help your business ask the right questions of the people you partner with. In addition, it will help you find the best outsourced IT provider to propel your organization successfully into the next year and the next decade.
Quite a bold statement I know, however, I believe the business and outsourced IT partnerships you build as an owner and manager are strategic and meaningful, particularly when you have growth goals in mind or want to improve the bottom line.
So, let's get to it! What are the important areas to review and how are IT services changing?
1. Business transformation
If you outsource to a managed service provider and only pay to get daily issues fixed and devices installed, you are missing out on so much more. Are you focused on growing your business and potentially changing the way it is conducted?
Seek out an IT provider that offers business consulting and strategy services. Outsourced IT providers are growing and maturing; some offer meaningful and proactive suggestions to help businesses meet their key initiatives. Services include strategy sessions, technology road-mapping, annual budgets, project budgets, and regular business reviews.

2. Digital transformation
A buzzword for some, digital transformation actually has specific goals in mind. According to Salesforce, digital transformation is the process of using digital technologies to create new—or modify existing—business processes, culture, and customer experiences to meet changing business and market requirements.
Much like business transformation, digital transformation requires an outsourced IT provider that knows your business, proactively brings suggestions to the table, and can implement the technology. The benefit of identifying and successfully implementing digital technologies for your business is to better compete, differentiate, disrupt and outperform.
Forward-thinking outsourced IT providers are providing these services to business owners and managers while at the same time increasingly training staff to support implementations.
3. Cloud services
The need for business continuity certainly contributes to the adoption of cloud data storage and infrastructure for small and midsize businesses. Cloud data and file storage gives employees access to information anywhere they are working. It's convenient, efficient, scalable and secure.
An outsourced IT provider will take on planning and implementation projects to move data and storage, as well as secure and backup the files and data. Again, an IT services provider that knows your business will bring forward discussions on internet dependency, access options and issues surrounding data security.
4. Cyber security
The increased shift to digital and cloud tools and resources brought with it increased risk and exposure to cyber attacks, data compromise, and ransomware.
Hackers and cyber thieves took advantage of the pandemic and businesses sending employees to work from home (less security), as well as their shift to cloud tools and resources. Cyber crime increased, and not all businesses had the time to prepare or resources to deal with the quick changes.
Business decision makers are now evaluating the changes needed. In a survey by Syntax, out of the 500 decision-makers surveyed, 83% plan to move their security teams from in-house to an IT managed services provider.
IT resources are stretched thin in midsize businesses, so it's not easy for IT staff to take care of daily tasks in addition to projects and cyber security initiatives. Outsourced IT providers are here to pitch in and help out. Seek out an outsourced IT services firm that has the knowledge, tools and resources to protect your business at every level of risk. Cyber security tools and education make a big difference.
You don't need to back away from the gains your business made in efficiency or flexibility, but you do want to tap an outsourced IT provider that has the knowledge, tools and resources to protect your business.
5. Next-level automation
Here are some benefits of next-level automation occurring now:
So whether a software bot provides information to clients or employees, business analytics drive decisions for the c-suite, or you tap the internet to monitor machine performance in manufacturing—automation delivers business benefits.
Are you looking for innovative ideas for your business? Reach out to your outsourced IT provider and partner with them to look at the possibilities. Is your IT provider going to meet all these next-level automation needs with their own staff? Possibly not, however they know companies you can contract with.
What should I look for when interviewing outsourced IT providers?
You will want a company that works proactively and offers the services which can help your company meet your goals and take you to the next level.
For more on how to choose an IT provider, check out the FREE workbook below. It is packed with 30+ questions to ask and tips on what to look for in order to meet your company needs.
In business for 20 years, CoreTech is an experienced outsourced IT service provider for businesses in the Omaha and Lincoln metro areas.
And we'd love the opportunity to work with your business!