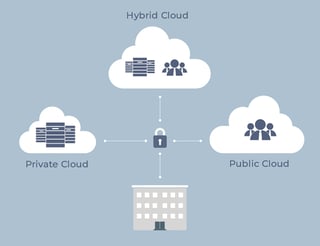 Deciding on the best cloud solution for your business requires you to really understand all of your options. But there are a lot of different terms that get thrown around when discussing the cloud. In order to be an active participant in the discussion and decision-making process, it's important to be familiar with your options and understand the costs and benefits of each. Use this guide to get the basics down, and then reach out to us with questions you may have.
Public Cloud, Private Cloud, Hybrid Cloud:
Public Cloud: Computing services offered over the internet by third-party providers. These services can be free or pay-per-use and anyone can create an account. Since you only pay for what you use, you can easily add or subtract services based on your current needs, making the public cloud scale easily. The public cloud also doesn't require the large up-front cost of buying equipment or maintenance over time that you get when hosting your data on-site.
Private Cloud: Computing services offered either over the internet by a third-party provider or a private internal network located on-premise in your business's office or data center. These services are NOT open to the public, they are exclusively used by one business. Since it is only used for your business or organization, you have control over the environment and are able to customize it to fit your specific IT or compliance requirements. There are two different ways a private cloud can be hosted:
On-Premise Private Cloud: This solution is hosted in-house. Because of this, your business is given full-control over the set-up, infrastructure and security of your cloud. This places all of the control in your hands, but also leaves you with the cost of buying equipment, as well as monitoring and maintaining it.
Hosted Private Cloud: This solution is hosted by a third-party that creates an exclusive cloud environment to be used solely for your business's data with the full guarantee of privacy. This option mitigates the risk of sharing resources in the public cloud but doesn't leave you with having to buy and maintain equipment.
Hybrid Cloud: Many businesses take advantage of both public and private clouds and this is considered a hybrid cloud approach. It allows businesses to keep certain business-critical processes on-premise but also utilize the flexibility of the public cloud for programs that require it. For example: you may utilize a publicly hosted Customer Relationship Management (CRM) tool such as Salesforce, but keep tools on the private cloud that don't see a lot of change and relate directly to producing your product or service.
Cloud Computing Types:
Software as a Service (SaaS): Sometimes referred to as cloud application services, these are hosted by a third-party and can usually be used directly from a web browser without any download or installation required. In general, users just need to log in over the internet and are then able to use the software. (ex. Google apps)
Platform as a Service (PaaS): Application development platforms are hosted by a third-party provider and made accessible to users over the internet. PaaS allows developers to create applications specifically designed for your business. (ex. Microsoft Azure & Amazon Web Services (AWS))
Infrastructure as a Service (IaaS): Servers, storage and networking are hosted by a third-party and made available to users over the internet. Basically, IaaS is comparable to a traditional data center with the exception of having to physically maintain and manage it. In this way, users access their servers and storage through a virtual data center located in the cloud. (ex. AWS & Azure)
If you have questions or would like to discuss what cloud options would work best for your specific business, reach out to us at 402.398.9580.