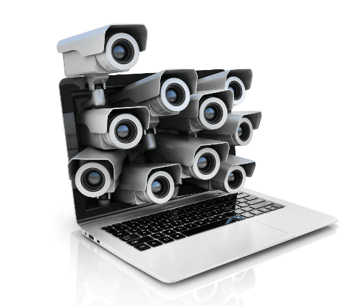 Have you been surfing the internet and felt like you weren't alone? Your intuition may be right. Hackers all over the globe are spying on people through their webcams, and it is creating a huge privacy issue for many people.
Startling enough, there is a thriving black market for compromised webcams and the photos or videos they produce. According to a 2013 BBC report, the going price to access a woman's webcam was priced at $1 per female, while webcams belonging to men cost $1, for one hundred. You would never know if you were a victim of webcam hacking as hackers have the ability to override the camera indicator light.
So how does the hacker get a hold of the webcam?
Software is typically installed into a computer when the victim clicks a link on a phishing email. Phishing is the fraudulent practice of sending emails that appear as though they are from reputable companies in order to capture personal information from the victim.
Even FBI director, James Comey, and Facebook CEO, Mark Zuckerberg cover their webcams with a piece of tape. By taking one second of your time to cover your webcam, you can save yourself from being spied on. It does not matter whether the webcam is switched on or not--you should always assume that it is on and open to intrusion.
Cassidy Wolf, Miss Teen USA, lived through a horrific hacking nightmare. She received emails every day for 30 days from someone threatening to reveal pictures of her if she didn't do what they asked. Wolf's mother contacted the police immediately, and the morning after the first email was sent, the FBI got involved. The FBI promised they would find her hacker, and sure enough they did. Wolf was sure the hacker was from a foreign country, however it turned out the hacker went to her high school. Wolf was one of twelve victims. Although Wolf developed numerous trust issues as a result of this incident, she has made a conscious decision to not let what happened control her life.
Our recommendation: Cover your webcam
Whether it's Post-It Notes, or painter's tape, make sure you get your webcam covered. When deciding what to cover your webcam with make sure it is flexible, will stick to the surface, and provides a high opacity. Search for a webcam cover on Amazon if you prefer something more professional.
Don't let yourself be a product in the hackers black market, and don't open an unknown email and start clicking on links. Protect yourself today!
Sources:
https://www.engadget.com/2016/09/23/the-fbi-recommends-you-cover-your-laptops-webcam-good-reasons/
http://www.slate.com/blogs/future_tense/2016/09/15/the_best_ways_to_cover_a_webcam.html
http://www.teenvogue.com/story/cassidy-wolf-hacking