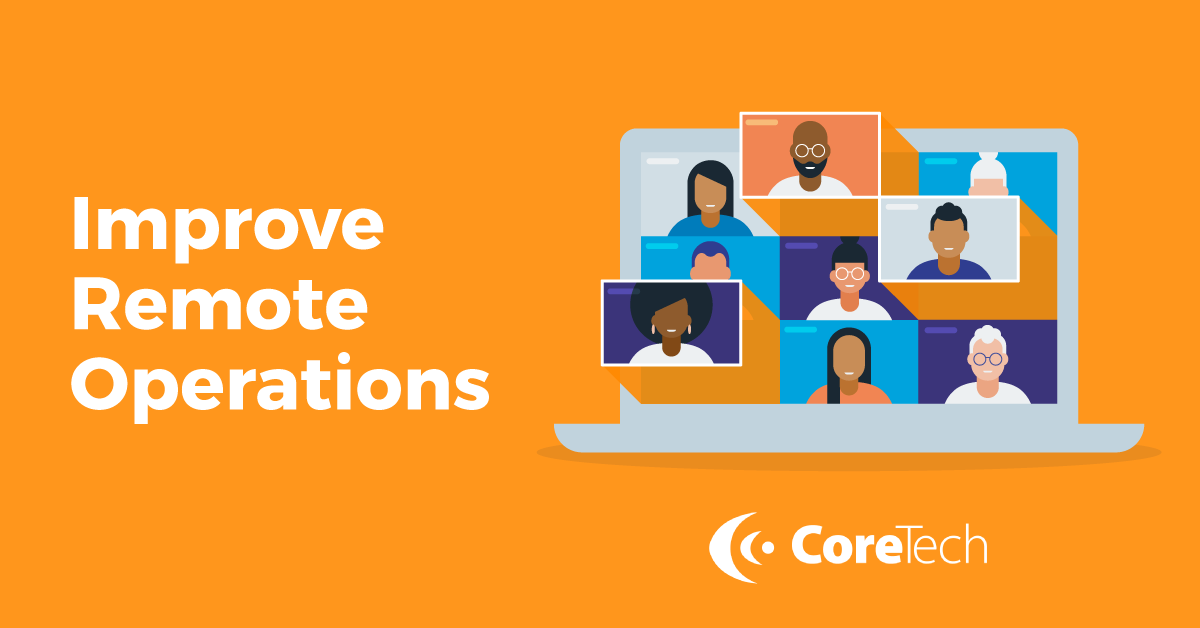 Is remote work here to stay? In September, LinkedIn published a list of "remote work havens" in the United States. Omaha was on the list, where 28.1% of LinkedIn job seekers applying through the platform prefer remote work. With this shift in the workforce, the best question to ask your IT team is "How can we improve remote operations for our company?" Here are some suggestions to get you started.
1. Streamline your use of collaboration tools
It's not enough to bring in a new tool to increase collaboration and communication without also establishing processes and providing guidance about how to use them. A few questions to consider when creating processes include:
When will we choose to send an email vs. sending a message in Slack, Microsoft Teams, or any other messaging tools?
When is it best to place an impromptu call versus using the company calendar to set up a meeting?
How will we determine whether to record a meeting while using Zoom or Teams?
What are some other processes we should put in place to make sure our communication and collaboration are streamlined, particularly during remote meetings?
What are the expectations pertaining to off-hours communication?
Be certain you keep in mind that while it's possible to create a broad set of company-wide processes, certain teams will have some of their own due to particular needs with their project types, cycles and workflows.
To further streamline communications and collaboration, you might consider a cloud-phone solution to replace all physical desk phones, allowing employees to be mobile when needed. Using cloud unified communications which incorporates video may help decrease requests for unnecessary meetings on Zoom or Teams.
2. Rethink remote meetings
Surely by now you've experienced "Zoom fatigue." While some meetings are necessary, excessive meetings can be one of the most disruptive parts of working remotely. Consider how your meetings are set and run. Be sure to create a process for online meetings which requires that each time a meeting is called, the organizer establishes a clear agenda, goals, and expected outcomes. Allow meeting attendees to hold the organizer accountable to meet this criteria.
Additional meeting requirements might include the use of the mute button when entering a call, using the "raise your hand" feature rather than interrupting, and avoiding distractions (including multi-tasking!) when participating in meetings. Empower staff at all levels to keep each other accountable on meeting etiquette.
3. Reduce other disruptions & empower staff
An important part of remaining productive is to reduce disruptions for employees. For example, you could suggest that staff set specific times in the day when they will check email. You could also suggest teams limit how many hours a day they devote to meetings and email vs. executing project tasks.
Some people choose to use apps that block certain websites for periods of time, while others use "do not disturb" features or turn off notifications from apps they use when they want to focus. Make sure supervisors are understanding and supportive of staff who are seeking ways to limit distractions.
Remember, reducing disruptions won't look the same for all people or departments. Some may require more collaborative work than others, depending on their role. Whatever your teams and departments choose to implement, make sure all staff adopt the agreed-upon processes to aid in reducing disruptions.
4. Implement a project management platform
A project management platform like Asana, Monday.com, Trello, or Wrike will also help your SMB increase team transparency and accountability. You can use the platform to track employees' progress of projects and tasks accomplished.
Tying activities in the platform to staff development goals and performance plans is one way the IT department and HR can work together to ensure ROI on the platform through appropriate and consistent use. Work with the management and talent development teams to establish an appropriate frequency to review the progress of key projects and individual contributors' KPIs.
5. Strengthen your IT security
Remote work can pose some interesting security challenges for your SMB. Are any of your staff using their own equipment to connect to the network and access data? Implementing a remote desktop solution will secure the data connection back to the office and protect your sensitive company information. Your IT team can make sure the necessary security protocols are in place so that data is not transferred out of your network.
Implementing multi-factor authentication (MFA) for remote and in-house staff is key to improving your business's security as well. Yes, it is an extra step, however, the additional protection is significant as well. Using MFA makes it more difficult for a cybercriminal to gain access to your systems and data.
6. Train employees to fully utilize IT
None of the communication and collaboration tools you implement will do any good if your staff doesn't know how to use them.
Incorporate training sessions into new employee onboarding, and also provide new feature sessions for all staff every six months. Even periodically reminding staff how to optimize their PC performance can help foster a more productive work environment. These training sessions are a great way to ensure employees are making the most out of the hardware and software the company is paying for throughout the year.
Security training is especially important for remote workers, particularly if staff members are using their own devices to connect to the office systems and platforms. Your security training should include simulated phishing attacks, phishing training, and video training modules which include new and emerging threats to watch out for.
7. Help combat burnout and isolation
According to BambooHR's April 2021 survey of 1,000 employees working remotely due to the pandemic, a net 79% of remote workers feel burned out every month. Some experts believe burnout to be among the top reasons for the record number of workers quitting their jobs in the United States this year. BambooHR found that 36% of responders who were planning to switch careers or look for a new job attributed this decision to burnout. So how can SMBs like yours avoid these high turnover rates caused by employee burnout?
In August, Gallup published an article listing three things that employees with the lowest risk of burnout have in common: they are engaged at work, their wellbeing is high, and their company's culture celebrates people's strengths. Check out the following tips that can help boost employee engagement and well-being:
Engage your team at all levels: As you are putting together your communication and collaboration processes make sure you are engaging your staff from all levels of the company. Once established, treat these processes and guidelines as living documents that you can review during quarterly or annual review sessions, to make sure they are still working for your staff.
Reduce risk of isolation: Increase opportunities for employees to engage in team-building activities, such as remote game evenings, a happy hour or recognition event. Use a form to survey staff for ideas and potential meet-up leaders. Not only will this reduce the risk of isolation, but it will build your company culture as well.
Encourage work-life balance: Be certain your remote team knows time off is important. Simply because they are working remotely doesn't mean they are always available. They need to meet their production goals, metrics, and their work hours, however work-life balance is still important.
Taking time to improve remote operations with the above tips will help your Omaha SMB perform more effectively and productively. Tap your IT partner to keep your business secure, productive, and trained.
Please reach out to the experts at CoreTech so that you have more time to run your business and worry less about technology and IT security.