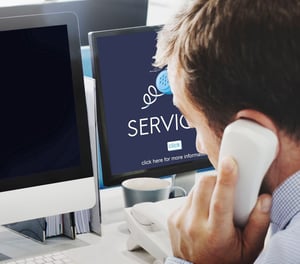 Recently, we've noticed a large upswing in people hacking into voicemail systems. These hackers build mailboxes that allow the caller to dial international calls through the system. When they call and select the fraudulent mailbox they have built, the voicemail gives the hacker open access to the victim's outside lines and they can make long distance and international calls at the cost of the victim. This can add up to thousands of dollars before it's even discovered. With so many security issues to worry about already, we don't want you to worry about one more. So let's take a look at what can be done to keep your voicemail system secure.

Voicemail hacks didn't become a large issue until a few years ago. Most of the knowledge it would take to set something like that up was in the heads of the equipment installers. However, nowadays, it's easier than ever to find documentation online that teaches a hacker how to make configuration changes that few people know how to do, and they're taking full advantage of the knowledge.
At CoreTech, we've made it a practice to change the passwords for admin mailboxes to make it much harder for those with bad intentions to get what they want. However, if you have an earlier system, they have God-level configuration passwords that cannot be changed. If a person looks deep enough into the internet, they can find those passwords. Fortunately, newer systems don't have those kinds of passwords. So, it's definitely in your best interest to upgrade your older business phone system.
If you suspect your system has been hacked or see long distance charges on your phone bill that you didn't make, reach out to us. CoreTech can help secure your system as well as provide assistance when working with the local dial tone provider if they have put a long distance block on your service. Otherwise, if you'd like us to check your system programming to make sure all of the precautions are in place, give us a call at 402.398.9580.