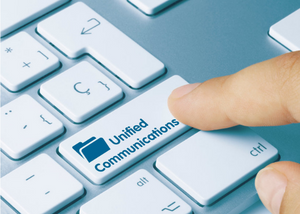 I was talking to one of our clients the other day about phone lines vs. internet lines and thought you might find this tidbit of history interesting. We discussed the home telephone line and the internet line at his home. This client mentioned that his phone line and internet service come from the same box in his basement, and how this is different from what he remembered last time he had to add a phone line.
Woven into this blog post is some history, and also what unified communications has become today. And how your business will benefit.
Tom Carter, an inventor who saw past the limitations
The conversation with my client reminded me of a prophecy made by a Texas inventor, Tom Carter in 1970. He predicted that one day voice and data would merge. Back then people just laughed at him, but he understood that it is all just information transmitted over a copper line, wireless radio connection, or fiber optic. Information such as voices, pictures and videos. They are all just coded information until it reaches the device that turns the information into something that makes sense to the person using it.
Think of it this way, the magnetic strip or chip on your credit card doesn't actually have money in it. It is just a transport vessel for information. The information is transferred from a merchant you swipe with, then to an acquirer which then forwards the credit card details to the credit card network. Then the credit card network requests payment authorization from the issuing bank.
The information transfer all happens behind the scenes, and you see the amount on your credit card statement. The information is transformed to something you can see in your credit card balance.
The reason Tom Carter knew the voice and data merge was coming? He had already done it. He invented a device called the 'Carterfone' that connected wired phone communication with two-way wireless radio communication devices (sometimes referred to as a 'Phone Patch' device).
Fast forward about 50 years, and this seemingly ridiculous prophecy is fully realized. Likely in nearly all of your businesses and most of your homes in urban areas. That little box in the basement is the device that makes the seemingly random information turn into a phone call or internet traffic once it is inside of your home or business.
What does this have to do with my business?
Enter digital transformation & unified communications
You no longer need to be tied to your desk phone. Waiting for a phone call and late starting your drive to a client meeting? No problem, head for your car and pick up your "office" call on your business softphone app. Are you now out of your in-person meeting and ready to meet with your staff to communicate follow up tasks? Hop on a video meeting, talk through the tasks, answer questions, then start your car to head to the next onsite meeting.
Options for your business and your clients
You and your business are no longer tethered to a specific desk phone or computer. You have the ability to serve your clients through the technology that best meets your need and their needs. Whether it be a video meeting, chat message, phone call, or voice message. With access to a cloud connection you are free to choose the best device or application to accomplish your work.
Is your business taking advantage of all that unified communications has to offer?
Or have you become overwhelmed with what is available? First focus on your businesses processes and how to best serve your clients. Then choose the tools which will help you accomplish all that you need to. At the same time look at the tools, what are they offering that you never thought would even be possible.
At CoreTech we have found and tested a number of tools, including Nextiva, which connect your phone system with business apps, AI, and automation on a single platform. Your devices, including cell phone, can have the Nextiva app installed on it and work in conjunction with your mobile data and cell service.
Tom Carter, paving the way
The Carterfone led the way to an FCC decision allowing privately owned FCC-approved equipment to be connected to the public telephone network. AT&T was firmly against anyone connecting a foreign piece of equipment to their devices without being able to charge additional cost. This was at a time when all of the phone equipment was provided by the telephone company and the subscribers had to lease the phones as needed.
Tom Carter was a very stubborn Texan, and he did not give up. Eventually he won the decision over AT&T. This was unheard of at the time. AT&T was just about the largest, most powerful company in the world, and they did not want to give any of that power up, especially to little old Tom Carter. That was a victory that paved the way to the endless selection of unified communications features we enjoy today.
What does unified communications offer your business?
Would you like a demo of the Nextiva platform and all that it offers? Our team would welcome the opportunity to show you the possibilities. Contact us today!