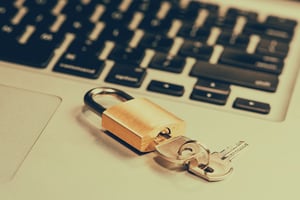 Cybercrime has become one of the greatest threats to modern businesses. As the prevalence of malicious cyber activity continues to increase, so does its toll on companies. In fact, it is estimated that cybercrime will cost the world $6 trillion annually by 2021. Regulatory and governing entities are starting to take notice as they begin to enact new rules and regulations to keep this type of crime at bay.
With these new policy changes in place, it is possible that your organization may be impacted. Your business could be required to meet certain industry security standards to conduct business or partner with different vendors. Below, we'll describe a few of these changes and talk more about how they are shaping the future of IT security.
Insurance Requirements
A large cyber security attack can be expensive for businesses. In fact, an estimated two million cyber attacks in 2018 resulted in over $45 billion in losses across the world. And business insurance providers are taking note.
Many insurance plans that cover liability, business income and small businesses are now requiring that companies have certain cyber security protections in place if they want to maintain coverage. Many carriers are requiring that businesses create disaster recovery plans with processes that clearly outline what the business will do to respond to and recover from a cyber attack.
Businesses today should consider getting ahead of this requirement by creating a detailed business continuity and disaster recovery plan. Not only could this be a potential insurance requirement in the future, but it helps prepare your business for these types of malicious attacks today.
New Legislation
New legislation has also been put into place to respond to the increased number of cyber attacks across the globe. In the United States alone, at least 35 states, Washington D.C. and Puerto Rico considered or introduced more than 265 bills or resolutions that related to cyber security. This new legislation pertained to improving security practices for governmental agencies, providing funding for cyber security programs and restricting public disclosure of sensitive government cyber security data.
In addition, in May 2018 the EU implemented the General Data Protection Regulation (GDPR). The goal of this legislation is to protect customer privacy and secure sensitive data by regulating how information is stored, processed and transferred. This major piece of legislation requires any companies doing business with European citizens to make significant changes to their cyber security tools and network structure.
To prepare for further legislation in your area, it's important for your business to review how you are currently handling private customer data and how you could make improvements for security. To stay ahead of the game, continue to stay up to date on changing legislation and work to implement robust reporting on the use of customer data.
IT Vendor Requirements
Just as new policy changes require businesses to update their cyber security practices, these changes also impact IT vendors such as managed service providers (MSPs). As IT businesses start to become targets for cybercriminals, they will need to strengthen their own cyber security processes to prevent damage to their business while also protecting their customers.
What does this mean for your business? The external IT vendors that you work with may be implementing stricter security requirements for their clients since security issues with a client's data and networks can impact the security of the MSP. Your business will need to establish end-to-end cyber security policies and protections if you want to continue doing business with your favorite IT vendors. Your MSP can provide IT consulting to help you better understand your cyber security weaknesses and areas for improvement.
Be Proactive About Cyber Security
Overall, the key to avoiding cyber attacks and protecting your sensitive customer data is remaining proactive about security. Businesses should not wait until their data has been compromised to start investing in cyber security. Understanding the new policy changes that are shaping IT security allows you to get ahead of these issues, helping protect your business from data loss, excessive recovery costs and a damaged reputation.
Learn more about the newest developments that are impacting IT security in the new year and beyond. Download our ebook Latest Innovations in IT Security: 2020 today.