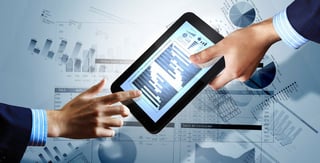 Technology has grown to become an intelligent, digital mesh of people, equipment, and services. While advancements in technology are improving the way in which we conduct business, it means we must also keep up with it. Adopting new technologies for your business not only can save time and money, but can efficiently speed up business processes as well. Small Omaha businesses are implementing these advanced technologies to not only improve business functions, but give themselves a competitive advantage. As a small Omaha business, adopting these tech trends can provide you with a way to stand out from your competition and optimize business operations.
Let's take a look at five technology trends to watch (and apply) this year.
Security
With technology becoming a prominent part of everyday work, incresed security becomes a hot topic for businesses worldwide. The potential risk of having private information stolen, or computers locked down from a hacker has made businesses increase their security to decrease vulnerabilities. They are not only training staff on fake emails, and phone calls but installing applications to prevent hackers from finding a way into their system.
Here are a few ways in which companies are improving their security:
Wi-Fi Security. Small businesses are using intrusion prevention systems, VPNs, network access controllers, and firewalls to block access. Now it is taking more than just a password to log into the company's servers.
Anti-virus software. This is getting updated on a regular basis. Startups are investing in the latest anti-virus software.
Education for staff. Educating your staff so they know what to watch out for in phishing emails, texts, and calls will reduce your risk significantly.
Mobility
Mobile devices are a structural component of how businesses operate day to day. With new advanced software apps, remote desktop, and unified communications, work that used to be done on desktops can now be done on phones or small tablets. This gives companies the opportunity to stay connected, and continue working regadless of where they are.
Unified Communications
In our fast-paced society it is important for your business to keep up with the speed at which everyone else is moving. Implementing unified communications is one way in which businesses are increasing their speed and efficiencies, as well as optimizing business processes. By providing employees with the tools to become more aware and responsive, companies have a competetive advantage compared to those still running multiple platforms. Unified communications includes tools such as voice messaging, hotdesking, video conferencing, dynamic extension, and teleworking to keep business processes running even when disaster arrives.
Increased use of Cloud Services
Many businesses already moved in the direction of cloud services, but using cloud services for email and file storage will continue to grow. Email services like Microsoft Office 365 have numerous benefits. Not only does cloud email reduce the need for technology and the management of that technology, but it also allows employees to access their email from anywhere. Similarly, cloud storage services like OneDrive add mobility and create redundancy of important documents.
Business Intelligence
In a time where businesses are buried under information, it is difficult for them to make sense of it without any special tools. Business Intelligence provides resources to track, store, process and analyze data, which can lead to smarter decision-making regarding cutting expenses, finding new business growth opportunities and improve overall performance. While initially only large businesses could afford the cost of using Business Intelligence software, recent technological innovations such as Software as a Service(SaaS) on a cloud computing platfrom have now made it avalable for smaller businesses. Expect to see growth in the use of Business Intelligence throughout this year as a way for businesses to analyze data and make better decisions from it.
Let us help you with your technology needs
At CoreTech we're here to help you strategize and deliver your technology plans. We can help you stay on top of these top 5 top technology trends your business can use to be even more successful as new trends emerge.