We have the opportunity to be more efficient and connected than ev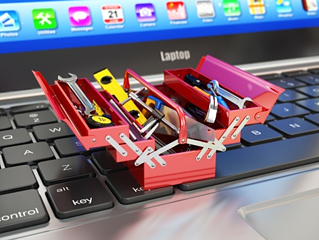 er before. So why not take advantage of a few gadgets which could help you on the job? Here are the top 5 tech tools to upgrade your work life, so you can continue to increase your productivity.
1. Smart Watches

It's what the buzz is all about. Smart watches may seem overrated, but they can actually help your day go a lot smoother. Do you attend lots of meetings where it's hard to constantly check your phone and see if you are receiving any messages? With a smart watch, you will conveniently receive all of your texts, e-mails, and notifications on your wrist. You can get driving directions without distractions, make healthier lifestyle choices, never lose your phone again, and so much more! There's both Apple Watches and Samsung/Fitbit style smart watches. Invest in one today to make your life just that much more productive!
2. Amazon Echo
You may be wondering; how could a speaker help me upgrade my work life? The Amazon Echo is not just a speaker; it is a personal assistant. Do you need to schedule something in your calendar, set an alarm, turn on/off the lights, or even order lunch? Just ask Alexa, the personal assistant built into the Amazon Echo. This device is sure to save you some time by also creating a list for you which you then access on your smartphone while out and about. Alexa will even give you some laughs if you just ask Alexa to tell you a joke!
3. Post- It Plus
Are you one to make a lot of post-it notes for yourself? If yes, isn't it really easy for them to get disorganized and out of place? With the Post-It Plus app, you no longer have to worry about your post-its becoming disorganized. The app will allow you to take a picture of all your post-its and it will separate out each discrete note from the image and save them on a virtual board. You can then virtually organize your post-it notes and even add them to your Evernote, drop box, or Tumblr. It has never been so easy to stay organized!
4. Smart Pens
We may be in the era of tablets and laptops, but there are many who still prefer to take notes the old fashioned way- with pen and paper. Jotting notes down on a piece of paper and not storing them digitally can be risky. With the purchase of a smart pen, you don't have to choose between analog and digital notes anymore. A smart pen is an ink pen that tracks your notes on paper and then turns those notes into digital copies. Digital notes are important to have because they can be backed up, copied, and kept on a hard drive. Save them in the cloud and you then can have access to your notes anywhere.
5. LastPass
Keeping track of passwords, usernames, credit cards, and bank account numbers can get very confusing. Don't you hate when you go type in your password, and you can't remember what it is? With the app, LastPass, you no longer have to worry about forgetting your passwords or any other information. You can download the app on your phone or your computer, and it even has the capability to automatically log you into your accounts.
What other devices, technology tools or apps have changed your life? Please share in the comments below.
Resources:
https://www.lastpass.com/
http://www.inc.com/travis-wright/28-favorite-tech-tools-for-small-business-entrepreneurs-in-2015.html
https://www.entrepreneur.com/article/252365