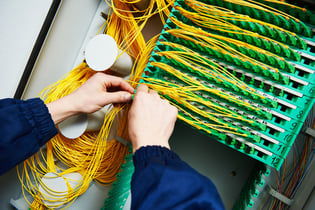 Throughout my years of installing and troubleshooting cable, I have come across many reasons why a data cable may not function properly. No cable lasts forever, and they all start to wear down over time. However, without proper installation, you can face numerous issues, including slow connections, poor quality and, overall, inconsistent performance.
Here are three possible cable issues you might be facing.
1. Color-coding errors
Cables are categorized through a standard color code for ease of identification, and the most common code is a T568B. In fact, all commercial and residential wiring in the US typically follows the T568B color code.
A T568A code does exist, and the orange and green pairs in its pattern are the inverse of the B-type code. This is where our first problem can arise. In order for a cable to work correctly, it must be terminated the same on both ends, otherwise connection problems may occur.
2. A Broken Conductor
The next most common cable issue is a broken conductor. Usually, this happens where the jacket of the cable has been scored before part of it is removed. Sometimes the cable will still work and may even acceptably pass connectivity tests, but it may break in the process of putting on the wall plate.
A wire map tester will show a miswiring or a broken pair, and some testers will even identify how far down the cable the break is located.
3. Contact issues in cable ends
While the above problems occur in the cable itself, sometimes the issue is actually in the end of the cable. Sometimes a pin can get bent, causing poor contact. Occasionally, it is possible to wiggle the cable to restore functionality, but this is not recommended. The most important thing you can do to resolve contact issues is to make sure all eight pins are in place.
You can also check to make sure that the patch cables being used are good and in working order. Usually, I test with the patch cable unplugged from the switch port to the patch cable plugging into the device. This will test the whole cable from beginning to end. If the problem doesn't reveal itself through this type of test, your issue could be stemming from the switch port or device.
If you are experiencing trouble with your network performance, contact us today about your voice & data cabling needs. Our team has a wide range of knowledge on cable planning, design and installation, which will result in less downtime and a more optimized performance for you and your business in the future.