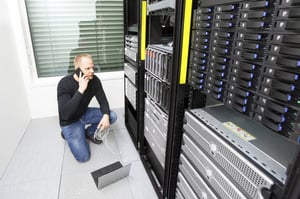 Sitting around and waiting for bad things to happen is not a recommended strategy for any aspect of life, so why take that course of action when it comes to your IT network? Stay on top of your network's health by running preventative scans and taking proactive measures to keep your system running efficiently. Trying to fix every little bump or disruption after it occurs, is a lot more time consuming than running automated scans. Often, they are able to identify the root cause of issues, sometimes even before symptoms appear. Here are some of the automated scans we offer and what the benefit is to your business:
Proactive Antivirus
We check to be certain you have antivirus on your computer and that it's active and up to date. If you don't have antivirus on the device, the system will alert us so that it may be downloaded. Since your antivirus scans your computer for possible threats, we need to be sure that it's doing the job and securing your system.
Disk Drive Fill Percentage
Do you know how much space is left on your hard drive? Your machine needs at least a 10% buffer of additional room, or the device won't run as well. If you fill up your hard drive beyond that point, your computer gets bogged down and it won't run as quickly or effectively.
Windows Patching/Updates
Patches and updates are automated to keep your machine running optimally. It also allows us to ensure that the appropriate updates are being applied to specific devices. For example, your laptop and desktop computers may both run Windows, but that doesn't mean the same patch is meant for both types of systems. Also remember to never click on popups – even if it says it's a Windows 10 update – it could really be malware. Instead of clicking, call us and we will walk through the necessary steps for your system.
Server/Internet Outages
The faster we know you're experiencing an outage, the faster we can resolve it. Sometimes we can even fix the issue before end-users experience a problem (especially if it occurs after-hours). These disruptions are generally caused by botched updates, mechanical malfunctions, or power outages.
Hardware Failures
Usually, before a piece of equipment stops working completely, there are warning signs that will show up in the reports from our automated scans. This is another instance where the sooner we can spot an issue, the sooner it can be handled – preventing a headache down the road.
Data Backups
Computers are replaceable. But you can't very well refabricate every piece of data you have stored on your system. That's why it is important to have backups of everything you need in order to do your job. So, if the worst happened, you could be back up and running, without skipping a beat.
Automated scans are an indispensable part of staying ahead of technology issues. If you are interested in taking some proactive measures to keep your business running efficiently, give us a call at 402.398.9580.