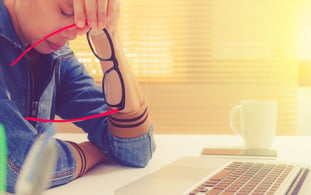 Getting a sleek, shiny, brand-new computer is an exciting experience. You have the opportunity to customize it to fit your needs perfectly. You have so much space for everything you're going to need and seek to accomplish. Every program and web page works instantly, making each task feel effortless. However, technology doesn't stand still. Innovation constantly materializes and propels the industry forward. Within just a few years, computers become incapable of keeping up with the latest updates and applications. Users start to find them moving arduously slow. The next time you find yourself or your employees in this situation, don't just suffer through the frustration. That outdated computer may be costing you more than you think.
Productivity Drain
From a management perspective, the inefficiency of slow computers that bog down your staff is the greatest cost. Instead of crossing things off their to-do lists, your staff is wasting time restarting their computers multiple times a day, spending their time on the phone with support trying to fix their recurring issues, and overall becoming frustrated by the fact that the technology that's supposed to be helping them succeed at their job is actually hindering them. An office full of unproductive, agitated people isn't something anyone wants. If you take the time to add up how much you spend paying your employees to labor ineffectively and the costs of paying additional IT support, a new computer starts to look quite economical.
No Room for Updates
Updates need to be applied regularly in order to protect your system from mutating threats and to keep your machine functioning properly. However as your computer starts to get older, it becomes less equipped to handle the larger updates that newer computers run with ease. In addition, while physical updates are always an option, if your computer gets to be 4 or 5-years-old it typically makes more sense to invest in a new machine, than to extend the life of an aging machine. There is also always a point in which manufacturers stop providing support for old models, so they can invest in their new products. For example, on January 14, 2020 Windows will no longer be providing support for anything that still runs Windows 7.
Security Risks
Even after an operating system is discontinued, new vulnerabilities within that system will continue to be found, however no patches will be created to fix them in these older versions. This puts your computer at substantial risk of falling prey to malware. On top of that, antivirus software will eventually stop working on old operating systems as well, which just endangers your machine and data further.
Lifespan
Historically, the life span of computers has been 3-5 years. Over the past few years, the power of computers has been outpacing client need and the innovation of applications has not been as tremendously significant as in years prior. As long as you don't buy the bare minimum machine that will only work for your company as it is right now, you'll see your investments starting to last on the 5-year end of the range. However, mobile devices (such as Notebooks) will still need to be replaced on the 3-4 year side because advancements in mobile computing occur more rapidly and due to physical wear-and-tear.
Refresh Cycle
Be certain your technology does not become a drain on your business by creating a refresh cycle for your computers. When it comes to keeping your technology at its best, you do have a couple different options. Option 1: Some businesses prefer to overhaul all their technology at once and get everyone a new machine simultaneously. However, this option can be financially strenuous. Option 2: Others prefer to segment their updates, so they are continually replacing only a few computers at a time and spreading the costs out.
If you are interested in looking at how a technology refresh cycle or budget could benefit your business, give us a call at 402.398.9580. We would love to help you put together information that is just right for your business.