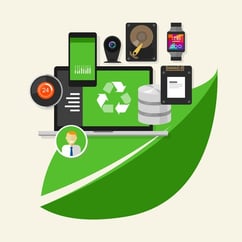 You may be wondering, what exactly is green IT? Green IT is the practice of environmentally sustainable computing. How we operate day-in and day-out can have a negative impact on the environment, however if companies take the right steps they will be able to minimize all of these negative impacts.
Eliminate paper, printer, and packaging waste
There's no doubt that companies use a lot of paper for day-to-day operations, and much of that is wasted and possibly unnecessary. Thinking before you print could save paper, as well changing a document to double-sided sheets or eliminating the printing of that extra page that just contains a header or footer. When buying new products it is important to look for eco-friendly packaging or packaging that can be recycled. This will help eliminate a lot of waste from the environment.
Transition from paper-based to digital processes
Many companies are already trying to use many digital processes to get their marketing message out to consumers. However, there are still a lot of companies who are using paper-based materials. Paper-based forms and faxes adds trash to landfills and wherever you are able to minimize it the better. The good news is there are many digital solutions to take the place of paper-based marketing that will be greener, more affordable, flexible, and interactive than anything that is on paper. There are e-mail marketing solutions, online blogs, social media accounts, and e-newsletters just to name a few alternatives.
Enable staff to telecommute
Telecommuting is becoming part of many jobs today, although it may not work for every position in the workplace. The American Electronics Association estimates that we could conserve 1.35 billion gallons of gasoline yearly if every U.S. worker who has the ability to telecommute did so 1.6 days per week. This will not only help the environment, but it will also save your business money and time in the long run. There are many virtual technologies that will allow an employee to communicate with others rather than driving in. Some great tools for small businesses include: Skype for Business and GoTo Meeting.
It makes good business sense to green your environment and culture. There are so many simple steps to start implementing green methods that will not only help the environment, but also contribute to the bottom line. Do you have any recommendations for sustainable IT? We'd love to hear them; drop us a comment below, and don't forget to subscribe to our blog to receive more great updates!