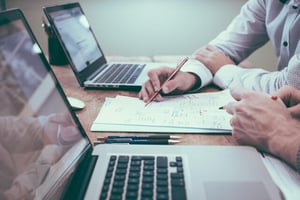 On any given day, internal IT managers have a lot on their plate. You're at the heart of it all: updating software, supporting end users, streamlining operations and keeping it all secure.
With so much on your to-do list, it's easy for internal IT managers to get sidetracked by seemingly minor tasks, leaving you scrambling for time to complete larger objectives that also demand your attention.
Partnering with a managed IT services provider can help lighten the load in a number of ways, including:
5 Key Benefits of Partnering with a Managed IT Services Provider
Although there are numerous benefits for IT managers of partnering with a managed IT services provider, here are some of the key elements you should expect to experience.
1. Be proactive, not reactive.
Your day is filled with addressing and resolving problems as they occur, and this leaves little time for heading off problems before they arise.
When working with a managed IT services provider, you can put solutions in place that will predict potential problem areas and alert you before they become major issues.
In addition, a managed IT services provider can install updates so you don't have to track and implement these changes while dealing with your current workload.
2. Leverage additional resources and expertise.
Staying on top of evolving technology, as well as diagnosing and resolving existing problems, can be very time-consuming — and you still may not get the answers you need.
However, partnering with an experienced managed IT services provider means you have an entire team of IT security experts ready to jump in to improve and maintain your infrastructure without draining any of your time.
In addition, you can draw upon their knowledge base and resources through their website, blog, and other publications to keep you in the know.
3. Take back time in your day to do what matters most to you.
By working with a managed IT services provider, you can hand off the tasks that seem to consume your day and instead focus on aligning your company's technology and processes with its primary business goals.
You'll no longer have to be on call for every IT problem or emergency. You can put that phone on DND and step away for a much-needed day off or family vacation, knowing your managed IT services provider has everything under control.
4. Incorporate transparent and predictable budgeting into your fiscal planning.
Making unexpected purchases to address technology shortfalls or resolving a security breach can take a real toll on your budget. Working with a managed IT services provider can help streamline and reduce costs by helping you with IT strategy formulation and planning.
As a result, you'll no longer need to hire additional IT experts internally or consult with multiple vendors. Instead, your processes will be more efficient and you'll experience reduced downtime.
5. Turn to a true sidekick for your IT needs.
With the help of a managed IT services provider, your internal IT manager will partner with an expert team that has the knowledge and experience to keep your IT department, and the entire organization, from falling behind.
As a result, you remain the hero. We'll just step in and help with whatever you don't have the time for or don't want to do yourself.
To discuss these benefits or find out more about how CoreTech works with IT managers to streamline technology solutions, contact us today for a free consultation.