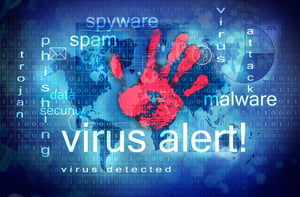 As technology advances, so too do cyber threats. Without proper antivirus (AV) software that can adequately prevent those ever-changing dangers, your device is at risk of being infected with viruses, worms or malware, and, traditionally, that malware has been file-based. Previous generations of AV would have sufficed against that particular threat.
However, the name of the game is money—hackers no longer only use file-based malware, as their potential return on those attacks is significantly less. Instead, they now utilize more sophisticated attacks with fileless tactics. Or, they infect the machine with ransomware.
That's where AV upgrades come into play. If an outdated antivirus application is installed on your device, you aren't as protected as you think you may be, as new threats continue to sprout up and develop.
So, are you still using the same antivirus you were five years ago? If so, it's time to consider next-generation antivirus (NGAV).
Why do you need Something Better?
Unlike traditional AV, next-generation AV (NGAV) identifies malicious activity using a system-centered, technical approach that examines every process on an endpoint. This allows NGAV to proactively detect and block the tools and tactics hackers use to gain entry. While traditional AV is focused on detecting malware at the endpoint alone, NGAV addresses a larger range of modern threat scenarios like fileless and ransomware attacks.
By looking at the whole context rather than just isolated incidents, NGAV offers a more effective means of recognizing and deterring unknown malware and sophisticated attacks. This rich contextual information allows NGAV to understand the cause of the attack and prevent future ones. Rapid deployment and cloud access are also key features of NGAV. It offers increased endpoint detection, better response capabilities and a greater number of preventative measures. In many cases, it can replace entire traditional endpoint protection products.
Focus on Behavior, not Identity
The key is to prevent anything that can be prevented pre-execution and to deal with what cannot by looking at the behavior of processes executing on the endpoint. This is effective because, despite the large and increasing number of malware variants, they operate in very similar ways. The number of malware behaviors is considerably smaller than the number of ways a malicious file might look, making this approach suitable for prevention and detection.
Three Benefits of NGAV
With more effective technologies now available, businesses need to consider the following benefits of moving away from legacy AV:
1. Reduce Operational Costs
It is hard to measure the overall cost of running outdated technology that may make you vulnerable to cyber threats, but it does have a serious impact on several aspects of your business, particularly your productivity and finances.
2. Boost Protection
Since as early as 2014, AV leaders have openly admitted that there are limitations in their capabilities. And in recent years, hackers have improved their malicious techniques, easily bypassing traditional security products like fileless malware and PowerShell exploits.
3. Reduce Post-Breach Costs
There's no such thing as a perfect security solution, but post-breach you want to be able to make sense of the attack quickly and easily. An easy-to-use management console that presents the entire attack storyline can help you quickly close out vulnerabilities and even track down the individuals responsible. The faster you can put things right, the lower the financial impact on your enterprise.
How CoreTech can Help
At CoreTech, we partner with SentinelOne to deliver autonomous endpoint protection through a single agent that successfully prevents, detects and responds to attacks across all major vectors. Designed for extreme ease of use, the SentinelOne platform saves customers time by applying AI to automatically eliminate threats in real time for both on-premise and cloud environments. And, it is the only solution to provide full visibility across networks directly from the endpoint.
Antivirus, when included as a part of a layered security strategy, contributes to protecting your staff and your business.
Watch this blog for upcoming articles on this subject, fileless and ransomware attacks and don't forget to subscribe to our blog so you never miss an update on the ever-increasing importance of security solutions.