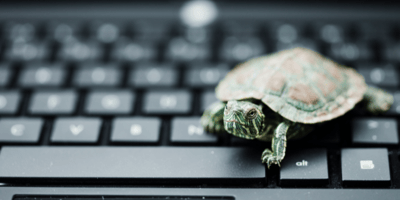 Imagine this scenario.
You're on a deadline, the clock ticking as you try to finish a major presentation for a huge prospective client. You've been working at a steady pace, but you've noticed something. Your computer has steadily become sluggish, bogged down by something unknown—maybe a program running in the background—or worse, a load of malware?
Slow PCs threaten even the most productive employees, causing frustration, stress, and impacted business functionality. So, I've compiled five simple tips for improving your PC's speed and performance.
Reconfigure your power settings
Windows 10 computers feature Power Saving modes to increase battery life when your machine isn't plugged in. These reduced performance settings might save energy, but they're also slowing down your computing power.
Changing to a higher performance setting will give you the boost you're looking for.
To change your power setting, click on the battery in your icon tray in the bottom right of your screen. Move the slider bar to Better battery, Better performance, or Best performance depending on your needs.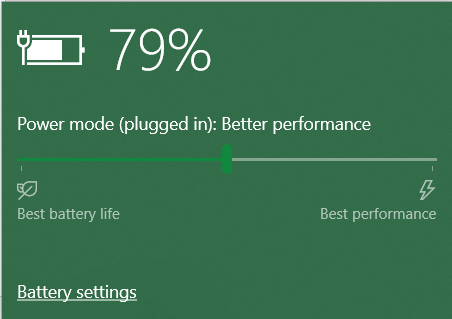 Disable animations, shadows, and other effects
Modern operating systems (OS) offer pleasing graphics for an enhanced user experience. They make some processes more natural and fluid. On most new computers, these neat features don't impact performance much.
However, if you're using an older computer, you'll experience a loss in performance. Fortunately, you can choose to turn these animations on and off within your PC settings.
To disable animations and other visual effects, navigate to the Display menu. Scroll down and find "Show animations in Windows." Turn this on/off.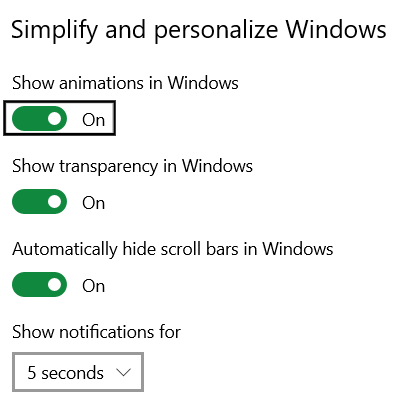 You can also choose which animations or effects you'd like to keep via the Control Panel. Read more about that here.
Disable programs that run automatically on startup
There are a lot of programs on your computer that might run without your knowledge. Some may be essential to your use of the PC, but others may not. Stopping automatic running of these programs could speed up your PC performance.
To configure your startup programs, first launch Task Manager. If you don't see the tabs, expand the window using "More Details," located at the bottom of the screen.
Select the Startup tab. From there, you can choose which services you want to launch automatically when booting your computer. It doesn't disable the application entirely, but it does prevent the program from running on startup.
Eliminate bloatware
You're probably wondering what bloatware is.
It's all the pre-loaded programs and software that comes on a new PC. While you may expect a new PC to be clean, that's hardly the case. It's not necessarily harmful, but it can make even the most top-of-the-line computer more sluggish.
Check your device for malware
If your machine is still running sluggishly, another underlying problem could be malware.
Running a system check on the machine can help identify potential problems—and help get rid of some of them.
If someone in your company has poor PC performance, call CoreTech
Our support desk is available to resolve a range of IT issues. They'll help you troubleshoot your computer's performance speed and help you get back to optimal functionality.
Just in time to finish your big presentation.
Contact us today to learn more about our IT help desk and our managed IT service offerings.