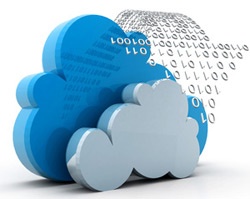 When the cloud began to gain widespread popularity, this was the original question. However, the answer is no longer an all-or-nothing proposition. Many Omaha small and midsized businesses (SMB) have learned that a hybrid approach is the best bet for them and some are all in!
Why the options? Well, it really depends on your business structure, industry regulations, applications, requirements, and goals as to whether a cloud solution is best for you.
The most popular systems for SMBs to put in the cloud are data backup and email. Why? The cloud offers unique offsite backup solutions. In addition, cloud email gives businesses the opportunity to save money. SMBs may more easily pay for email services on a monthly or annual basis as opposed to maintaining their own equipment and the serve needed for email.
Beyond email and backup, your Omaha business will likely see cloud offerings as a benefit if any of the situations below exist?
If your business is virtual with no brick & mortar required or needed.

The majority of your workforce is mobile or distributed geographically.

Companies requiring IT systems with a high degree of reliability or redundancy. On-premise redundancy is costly and typically not in an SMB budget, however cloud options are definitely a consideration.
When it comes to applications, an SMB may not be all in. You will want to evaluate applications on a case-by-case basis to determine if you need to keep them in house, or if they would work just as well in the cloud. These are some points to keep in mind:
Does the application you are considering share a database or integrate with a number of your other apps? Bringing it cloud-based may cause your integration to be lost.

If you want to maintain customization capabilities of the program or database. For example you have an ERP program with a Microsoft SQL database in house. If the application remains on your servers you have reporting opportunities as the data is in house and directly accessible. When working with a cloud vendor who has a number of clients on the same SQL server you may only have access to the application front end and not the database.

Do the majority of your staff work in the facility and rely heavily on your phone system and internet to get work done? If you rely heavily on access to your technology systems then you will want to keep your applications in house or obtain a redundant internet connection.

Are you a manufacturer with applications running specialty equipment? If you can't afford for that production equipment to go down, then moving the application to the cloud may not be the best option. If internet connectivity goes down, so will the production line.
Would you like to learn more about technology and the cloud? Contact us at 402.398.9580.