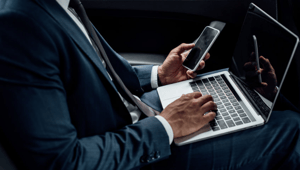 With many businesses working from home, it's safe to say that the pandemic has brought forth a new normal. And for many of those organizations, it's a way of working that likely won't change—even long after the danger of COVID-19 has diminished.
Businesses have discovered that it's easier than ever to work from anywhere, including the home.
Plus, with a unified communications (UC) system configuration, business owners can cut costs, boost connectivity, and experience greater functionality.
Are you still using a Toshiba phone system? End of life has arrived!
Cut Costs
When setting up your remote users, your business can reduce overhead.
Your business will no longer be shackled to expensive hardware, as modern phone systems offer hardware-free applications, known as softphones. Employees can download this application onto a computer or a mobile device, and that device becomes their desk phone. In this scenario, businesses reap significant savings.
Boost Connectivity & Collaboration
With UC solutions, employees often report better connection and collaboration opportunities with their coworkers. They have several options for connecting, including phone calls, instant messaging, video conferencing, and screen sharing.
These numerous means of communication break down barriers between users and their tools—and among your employees.
Experience Greater Functionality
A UC solution presents users with several new abilities. They can function as if they were sitting in the office by taking, making, and transferring calls from anywhere. Their Caller ID will still show the office number, and they can update their presence to let coworkers know how to best get in touch with them.
Other features include call forwarding, auto-attendant functions, and call routing.
Are you looking to improve collaboration among your remote users? A unified communication solution could be the right move for you!
Unified communications presents an array of benefits and features for your business.
From reduced costs, increased connectivity and greater functionality, a UC configuration will enable your remote workers to work together from anywhere.
If you have any questions about the benefits that unified communications can bring to your business, or if you would like to talk to CoreTech's expert team about our business phone system offerings, reach out to us today.
Or, you can schedule a meeting directly by clicking the button below.
Did you like this post? Be sure to share, and then read these other great articles from CoreTech's UC experts!