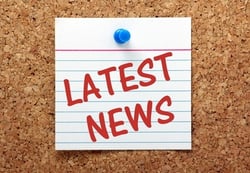 "Workplace" by Facebook launches
On October 10th of this year, Facebook officially launched the long awaited social network for company use. "Workplace," as it's been named, is an ad-free platform that is separated from any personal Facebook accounts. This space allows every department and person in a company to connect through group discussions, phone and video calls, and personalized News Feed. Although there is a free trial period of 3 months, Workplace will charge a low price for each user on a monthly basis. For 1,000 or fewer employees, each user will be charged $3 per month. For 1,001 – 10K employees, $2 will be charged, and for upwards of 10,001 employees, $1 is charged. Companies are already seeing Workplace results such as more efficient communication, better event participation, making decisions on the go, unleashing new ideas, and more!
Learn more here!
https://workplace.fb.com/?ref=producthunt
Microsoft Surface soars as Apple IPad falls
According to CNET, sales of Microsoft tablets have increases 38% in the first quarter, compared to a year ago. This spike in sales is being highly accredited to the sales of the Surface Book and Surface Pro 4, with a $254 million increase from this time last year. The success felt by Microsoft is not shared with Apple, as they are experiencing their 10th straight down quarter for iPad sales. Sales of the iPad have dropped 9%, totaling $9.95 million. Microsoft not only reported revenue of $22.33 billion which exceeds the Wall Street estimate of $21.71 billion, but also shows an 5.5% increase in stock price.
https://www.cnet.com/news/microsoft-surface-gain-apple-ipad-loss/
Tesla planning an Uber-like ride service
Chief Executive Elon Musk announced in his master plan this July that Tesla plans to create its own ridesharing service to compete with Uber. Details will be announced next year; however, this announcement was included in a disclaimer involving the new self-driving Model S luxury vehicles. The disclaimer banned owners from using their vehicles in services such as Uber and Lyft. The disclaimer read, "Please note that using a self-driving Tesla for car sharing and ride hailing for friends and family is fine, but doing so for revenue purposes will only be permissible on the Tesla Network, details of which will be released next year."
See Elon Musk's entire master plan here!
https://www.tesla.com/blog/master-plan-part-deux