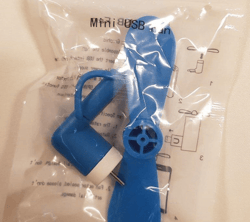 When an editor for The Economist (Leo Mirani), received a free mini USB-powered fan at the Singapore summit (where President Trump and North Korean leader Kim Jong-un met) he chose to not plug it in. He didn't know who made this fan, where exactly it came from, or if it had anything on it. However, he did know that any USB device presents the possibility of malware. Whether it's a fan, thumb-drive, mouse, keyboard (or anything else that plugs into your phone or laptop) it could pose a threat to your security. And when all the journalists at a high-stakes meeting - between two countries who have been known to partake in cyber-warfare - are given USB devices, it's best to err on the side of caution.
So, Mirani opted to send it over to Ross Anderson of Cambridge University to be tested.They concluded that this particular fan was not infected with malware or hiding a mic. But this doesn't necessarily rule out any threats from all the other fans passed out at the summit. Click here to read the full article by ZDNet.
Also, keep in mind that even if you're not reporting on a high-stakes international summit, it's still very important to remain vigilant when it comes to cybersecurity. A free USB isn't worth having your company data stolen, your computer fried, or your network infected. It's always better to be safe than sorry in these situations.
For additional informative articles from around the web, check out our Cybersecurity Awareness page.
Image: @HaraldDoornbos