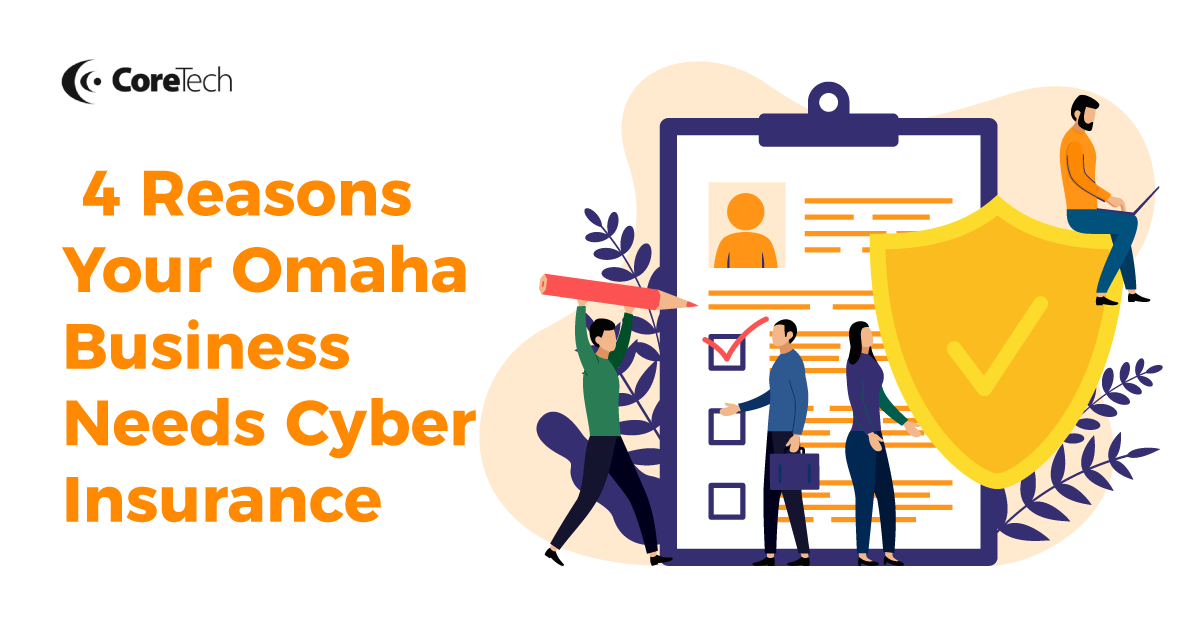 A cybersecurity attack or data breach can result in significant financial losses and downtime for your organization. This could impact the reputation of your company and even pose challenges to business continuity. Having cyber insurance is what can protect your business from the unprecedented consequences of a cyber attack.
Cyber insurance pays for the expenses towards the identification of the extent of infection, recovery, and other activities that need to be performed if an attack occurs. This makes having cyber insurance extremely important because the costs associated with recovery can cause disruption in business activities.
Many business leaders lack an understanding of how cyber insurance works and what benefits it can provide. So that's why, in this blog, we are going to share some golden nuggets and highlights we took from an interview with CoreTech's president, Chris Vilim, where he shared why small businesses should have cyber insurance, the potential benefits, and some factors to be aware of when signing up for a policy.
Why does your Omaha business need cyber insurance?
1) Because ransomware attacks have been increasing year-over-year
With cyberattacks making headlines every day, owners of small and midsized businesses need to understand that cyber risk is business risk. According to a report by Cognyte, the number of cyber attacks doubled in the first half of 2021.
Small businesses have a higher risk of cyber attacks because they lack cyber security measures. In fact, cybersecurity incidents have become the third biggest risk for businesses. The likelihood of your company having a cyber attack has increased over the last few years as 43% of cyber attacks target small businesses
You may also find this blog interesting: Why Your SMB Needs Cyber Insurance [+Statistics]
2) Because cyber insurance can compensate for business interruptions caused by an attack
A cybersecurity attack or data breach makes systems inoperable for days, and even weeks. The downtime from cyber attacks results in considerable revenue losses.
Most cyber insurance companies pay compensation for the expenses incurred on getting systems back in working condition after a cyber-related security breach or similar events.
"Having insurance to cover business interruption should be a part of your business plan. The insurance gives you compensation to pay for expenses that help offset some of the revenue losses from an attack." –Chris Vilim
3) Because cyber insurance will pay for the expense of notifying customers
Certain types of data are covered by breach notification laws. Most state breach notification laws make it mandatory for companies to communicate cybersecurity breaches to their customers. The communication and other activities mandated by breach notification laws are expensive and cumbersome.
Typical cybersecurity insurance pays for these expenses, reducing the financial burden on the business.
4) Because cyber insurance pays for most of the recovery costs
Recovering from a cyber attack is expensive and time-consuming. The time period to complete the recovery process is not usually covered in the agreement with your tech support company.
The prolonged downtime could lead to a significant loss of productivity and financial losses. Cyber insurance covers the forensic costs and expenses incurred to find out what happened and get systems back in running condition.
"There are costs involved in performing forensics to determine what happened and then in the recovery of systems. Having a policy that pays for these expenses is quite important." –Chris Vilim
Apart from financial loss, data breaches often result in reputation and legal damages, with the total cost of a single data breach averaging $149,000 for SMBs. For those with limited resources, an attack can prove fatal, causing a reported 60% of small businesses to close their doors following a cyberattack.
What are some requirements for a Cyber Policy to Kick-In?
Just getting cyber insurance is not enough –you need to have certain standard protections in place for your cybersecurity policy to kick in. Without basic cyber protection, the cyber insurance policy will not pay for the expenses that go into recovering the systems.
"You need to have good security precautions and prevention measures in place in order for most of the policies to actually still kick in and to pay." –Chris Vilim
When searching for cyber insurance, it is important to work with trusted insurance providers with proven experience helping business owners understand and quantify their risk and then tailoring insurance policies for the specific needs of the insured. Cyber policies should be reviewed in detail to understand what types of attacks are included, coverage for business continuity, and any exclusions.
Some important points to be aware of are:
Cyber insurance companies generally ask clients to complete a questionnaire to understand the cybersecurity measures and protections your business has in place.
Having standard cybersecurity protections is necessary for cybersecurity policies to come into effect.
The better cybersecurity protections a business has, the lesser insurance premium they can be expected to pay and vice versa.
In conclusion, businesses are becoming increasingly aware of the benefits of cyber insurance. Navigating through a cyber attack is challenging for them, both in terms of technical hours involved and the costs. Small and midsize businesses cannot afford to pay for the high recovery expenses that go into recovering from an attack. This is why purchasing cyber insurance is practical and cost-saving.
Looking for cyber insurance but unsure what factors need to be considered? Reach out to CoreTech and let us help you find the best cyber insurance solution for your business.