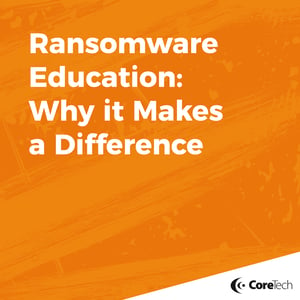 A comprehensive cyber security training program goes far in securing systems and keeping employees aware of the latest threats. "One of our clients using cyber security training saw a significant reduction in employees opening phishing emails from 22% to 2% in only 2 months. This is lower than the industry average of 19.3%. Training has made a huge impact on the organizations we work with." - CoreTech
With the increased adoption of digital technologies, it's easier for hackers to carry out ransomware attacks. All they have to do is send a phishing email to a victim's system and wait for someone to open it. Without knowing how to differentiate between genuine and unauthorized sources, uneducated users click the malicious links and enable the ransomware to lock the system.
Ransomware education is what can counter this growing problem of cyber security attacks. It involves training your employees about the different types of malware, the best practices to identify them, and, if detected, what steps to take. It keeps your workforce updated with emerging ransomware trends and reduces the chances of a breach.
What are the Cyber Security Risks of an Uneducated Workforce?
Every day attackers are coming up with new strategies to hack into your systems. Their strategies evolve and grow in sophistication, making them increasingly more difficult to detect.
What is even more alarming is that 95% of successful ransomware attacks are due to human error, making cyber crime one of the biggest concerns for most organizations.
Hackers have different tactics to compromise a system. Common cyber crimes include:
DDoS Attacks - overwhelming a site with high traffic to make it unavailable or shut it down.
Botnets - attackers using compromised systems (called botnets) to send spam or infect other systems.
Identify Theft - gaining access to a user's personal information to get system passwords, bank accounts or any other personal account.
Social Engineering - attempting to win a user's confidence by directly contacting them through email/phone. Criminals will gather as much information from the user as possible and then try to access their secured accounts.
Phishing - sending an email asking the user to download an attachment or click on a link. The email is designed to look like it's from a recognized source to make it seem less suspicious.


Out of all attacks in 2020, 54% of ransomware attacks were carried out through spam or phishing emails. Unfortunately, most companies have no systems or cyber security practices in place that can filter every malicious email. This results in employees unknowingly opening emails that may look trustworthy but in reality are phishing emails.
Ransomware actors know about this lack of knowledge and they use it to their advantage, sending phishing emails every day.
Ransomware attacks have increased 435% from 2019 to 2020. As a result, organizations continue to pay thousands of dollars as ransom payments. What is more alarming is that even after paying the full ransom, organizations fail to get all their data back.
Educating The Workforce
The rapid pace at which technology is evolving has made business processes efficient and mobile. Employees are increasingly using technology to automate processes, schedule activities, get access to real-time updates, communicate faster and so on. While technology is helping transform the way work gets done, it also needs to remain secure.
For this, you need to have a cyber security training program in place. The training should help your employees identify potential threats, and let them know what actions to take if they click on something they shouldn't have. Educating your employees can help prevent future breaches at your organization.
Cyber security education should include the following:
Developing a relevant training program
Phishing tests
Making that training an ongoing part of your IT security strategy
Developing a Relevant Training Program
Depending on the nature of your business, IT security training models can differ from organization to organization. This means contacting cyber security and IT experts to develop the desired training program for employees.
Specialized tools and training programs are designed to impart comprehensive training on the best cybersecurity practices for your organization's workforce. The program starts with a baseline test to understand your team's preparedness to counter malware attacks.
Next, security awareness is conducted for the entire group. In these training modules, employees are educated about the different types of malware and the methods ransomware actors use to target systems. They learn how to identify phishing emails or attachments that could contain potential malware. Modules also educate users on social engineering practices and phishing email patterns.. Finally, the training modules share information about secure browsing and email best practices.
The initial training usually takes around 45 minutes, but since there are several components, it could take up to a day for some employees to complete.
Phishing Tests
Training becomes effective only after employees can implement what they have learned. To measure the awareness of the workforce, phishing email simulations are sent to users.
These emails allow you to see if users have developed the ability to identify phishing emails. If someone clicks on the link, you'll be able to see it from the training dashboard. These users are then enrolled in remedial security awareness training. Once the employees pass a Phishing Test, they are removed from the remedial group. This makes cyber security training effective and delivers the intended result - help employees recognize malicious emails to prevent clicks on malicious links.
Training Should Be Ongoing
Cyber security training should not be a one-time activity. Every day new cyber security threats emerge and an organization's workforce needs to stay informed about them. If employees are not aware of the latest ransomware threats, they may mistakenly open malware and compromise your organization's entire system.
Side-Benefits of an Educated Workforce
An educated workforce will not only protect the firm from potential financial losses, but it will also provide some side benefits.
Employees Feel Empowered
When an employee thwarts an attempted attack, this induces confidence in employees and empowers them to care and appreciate their jobs more. According to Cyber Defense Magazine, empowered employees also apply their knowledge to personal security; they have important information in their lives, such as credit card numbers, 401k accounts, bank passwords and SSNs, that need to be protected.
Improves Client Trust
Clients value organizations that keep their data secured. When employees know how to tackle cybersecurity attacks, the chances of a successful ransomware attack will be significantly reduced. This will make clients more willing to trust their data and continue doing business.
Let us help you with your technology needs
Want to educate your workforce but don't know where to start?
At CoreTech, we're here to help you strategize and deliver on your technology plans.

We will help you educate your staff on cyber attacks and what they look like in order to keep your business safe. Give us a call at 402.704.4543.