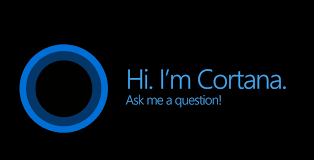 Putting aside all the great features included in Windows 10, Cortana is one of the best reasons to upgrade to the new operating system. Microsoft's digital assistant, which was originally introduced on mobile devices, now has its own space in the taskbar. It's available to help you with a lot of everyday tasks that help you be more productive! Cortana is always at your fingertips ready to help you find anything on your PC, track your packages automatically, give you accurate weather information, and make sure you don't miss any important appointments. Read on and find out how Cortana works...
1. Specific search queries
You can type anything into the taskbar search box and Cortana will bring up the most relevant search results. This includes results from Bing, folders, files, apps, and settings. However, when looking for something specific you can narrow you results with this trick:
In the search box you can type queries such as:
Apps: Edge
Settings: Display
Documents: Windows 10
First specify the kind of search category followed by a colon and then the term you want to search.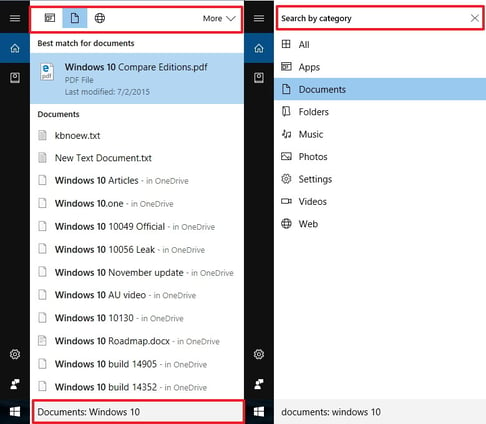 2. Track packages
Another Cortana feature is the ability to scan your emails to detect shipping information, which the assistant automatically adds to its Notebook and notifies you on the current status as well as estimated arrival.
However, if you are expecting a package that can't be found within the email account in your mail app, you will need to add a tracking ID manually to enable Cortana to keep an eye on your package.
Here's how:
Windows key + S to open Cortana
Click the Notebook button in the navigation pane
Scroll down and click packages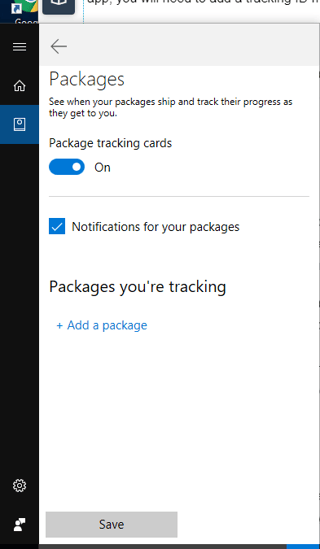 3. Card notifications
Microsoft searches all types of topics, including sports, news, movies and TV, academics, and many more. You can personalize what you see by turning off cards that you're not interested in and receiving only notifications for topics you're interested in.
Windows key + S to open Cortana
Go to the Menu in the upper left corner
Click the notebook icon
Open the category you're not interested in
In the settings page, toggle the option to turn off the card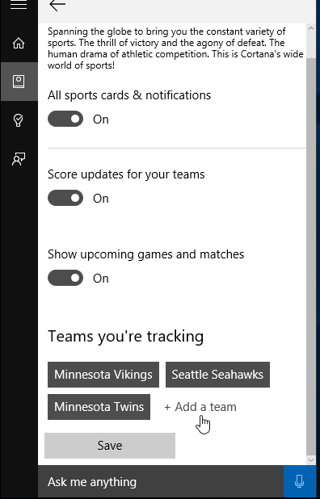 4. Create reminders
Cortana's main feature is tracking and reminding you of important events, and because it works across devices you can set it to remind you to do something at specific locations. For example you can say, 'Hey Cortana: remind me to get groceries the next time I leave my house' and once you leave your house it will send a notification to your phone.
You may also create person-based reminder in the same way. Set Cortana to remind you of anything when you're about to talk with a particular person in your contact list. For example, you can say 'Hey Cortana: Next time I talk with __, remind me to ask him ___'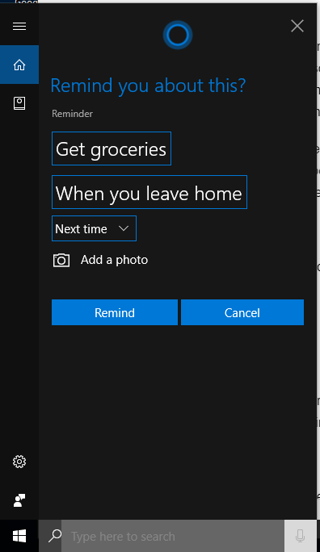 5.Translator
You no longer need to open your web brower for an online translator. Cortana allows you to translate a wide varitey of languages right from the search box. All you have to do is type Translate ___ to (language). Or you can also say ' Hey Cortana: How do I say ___ in (language)'.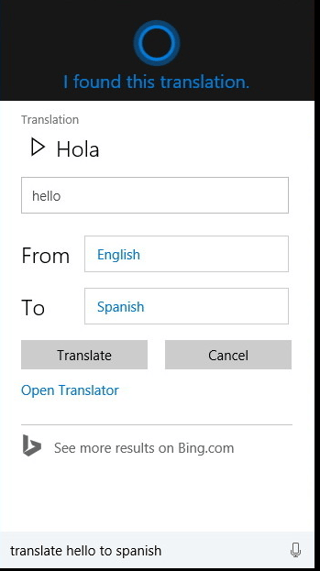 These are just a few of the things you can do with Cortana. Learning its features and implementing them in your daily life will allow you to organize, and plan for your day's events as well as instantly answer any questions you may have.
Sources:
https://www.microsoft.com/en-us/windows/cortana
https://www.intertech.com/Blog/windows-10-shots-cortana-keyboard-shortcuts-2/