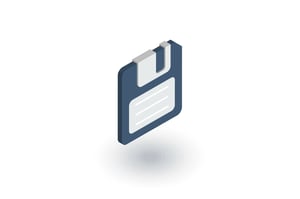 Microsoft strives to make it easier for you to save Office 365 files and documents to the cloud, simplifying your storage solutions and making your data available from anywhere with a reliable Internet connection.
Microsoft does this through OneDrive, their integrated cloud storage solution. And while it can be a handy tool, using OneDrive can sometimes inadvertently change some of your default settings.
Are your documents not saving where you would like them to? You can easily change your default save location with one of two options.
Save Window
If your Office 365 software is up to date, open a new document and press Ctrl + S on your keyboard. This will prompt a pop-up menu to open.

In the drop-down list, right-click the file location of your choice and select Set as default location.
Options Menu
In an Office 365 application such as Word, open a new document and click File in the top left.
Click Options in the bottom left corner of the window.

Navigate to the Save Options Menu.
Check the box marked, "Save to Computer by default" and then choose a Default network file location in the appropriate field.

Even if you decide to store your files in OneDrive, ensure you have an extra layer of safety by having backups enabled.
For assistance with your Office 365 settings or enabling OneDrive Backups, contact us. Our team of experts will get you up to speed with Microsoft's cloud storage solution today!