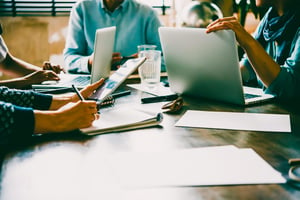 It's hard to run a business when you're constantly being interrupted by computer restarts, unreliable internet connections, or frequently dropped calls.
Yet, many small businesses just live with these frustrations because they don't have the time or resources to find and fix the issue. Or, they simply get stuck in a break-fix loop with old technology or temporary fixes.
We get that most small to midsize businesses in Omaha can't spend resources to employ their own team of IT specialists, but that doesn't mean they don't need IT or phone system management.
Let CoreTech help you with your IT support needs
If your technology is not making your work easier and more efficient, it's not doing its job.
Investing in the right tech allows your staff to do their work effectively, minimizing stressful disruptions. Finding the right technology for your business can also help you provide quicker, more personalized customer service and improve communication within your organization.
What are the common IT problems Omaha small businesses face? And what can be done?
Temporary Fixes:
For example, let's say your computer starts running slowly by mid-afternoon every day. But you've found that restarting your computer every afternoon around 2 pm can get you to the end of the day.
It doesn't fix the underlying cause of the issue; it just helps make one of the symptoms a little more bearable.
Instead of spending time restarting your computer multiple times a day and becoming agitated with your tech – just call CoreTech. Our techs will get to the underlying root of the problem and resolve it. The sooner you get these issues resolved, the less time, productivity and money you waste dealing with the annoying symptoms.
Reactive Maintenance:
Don't wait until things break to fix them. Our techs may not be psychic, but network monitoring is the next best thing.
We will set your business up with software and scripts to monitor your network performance. We'll be notified of abnormal activity, allowing us to act before issues get in the way of your business. With a combination of IT monitoring, maintenance and security software, your business will get the most out of its technology.
Lack of Communication:
Within small businesses, there is a lot of work to be done, and not a ton of employees to do it. Good communication is a necessity. Whether you use desktop phone systems, smartphones, chat, video conferencing, or all-of-the-above, it needs to work effectively and efficiently.
We can help you get the right integrated communication setup for your business.
Downtime:
Downtime can be detrimental to any small business. But, the better prepared your business is to deal with it, the quicker you can get your business back up and running.
We will work with you to create a Business Continuity and Disaster Recovery Plan to minimize downtime and data loss.
Experiencing ongoing tech issues? Call CoreTech.
If you are a small or midsize business in the Omaha area and need assistance with any of these common problems, or you are experiencing a different issue with your IT, reach out to us at 402.398.9580 or send us an email at info@coretech.us.
Or just click the button below.