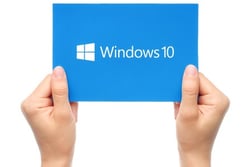 2016 has seem some major data breaches. From 700 Snapchat employees having their personal information stolen in March, to Yahoo announcing in September that a hacker stole information from over 500 million accounts, cybercriminal activity is only growing. In fact, the average cost of data breaches per incident amounts to a shocking $3.5 million!

Security vendors are indeed doing their best to keep up with new, more advanced threats, however adoption of changes by businesses needs to be advancing as well. What can your business do to avoid winding up on the 2017 major data breaches list? Microsoft has an answer for you—Windows 10.

This will not be the first place you've heard it, but passwords are not secure. 75% of us use the same three or four passwords for all of our accounts, from our work email to our twitter profile. Windows 10 provides a solution for this with their introduction of Microsoft Passport and Windows Hello. These systems only allow entry into your data by scanning a finger print, face, or iris. This way only YOU can access YOUR device.

Another big component in cybercrimes, is the ability to go undetected for over 200 days. This gives attackers the chance to go through all your data and see changes you are making to it. Windows 10 "Trusted Boot," works by checking every component of the startup process before loading it, making it harder for attackers to evade detection.

Finally, with the number of new malicious files being created everyday (exceeding 300,000), cybercriminals can just sit back and wait for these bugs to locate your data. Windows 10 "Device Guard," will lock a device down so that it can only run trusted applications that you define. If the app isn't trusted, it won't run.

Are you interested in learning more? Check out this infographic about protecting your business with Windows 10. Are you ready to take some action? Contact CoreTech today for help getting started with Windows 10 and securely protecting your business.