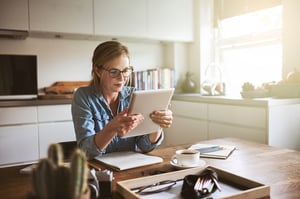 Like many Omaha organizations, our team has been working from home for the past month, and for the most part, we've all reported positive experiences. So, I asked three of my coworkers specific questions about their individual experiences with working from home. I also answered the questions myself, since I too have had to adapt to the situation in quite a few different ways.
Tell me a little about yourself
Before we dove into the questions, I asked everyone to provide a quick introduction about what they do at CoreTech.
Molly Boukal (MB)
As CoreTech's business development manager, I am responsible for new client consultations and reach-outs across the metro.
Angela Wight (AW)
I oversee marketing, administration and bookkeeping, and I also complete a number of payroll, benefits, and HR duties.
Ryan Aiken (RA)
I am an IT Systems Admin, so I take on a lot of our incoming service tickets while monitoring our automated processes. It's my job to help keep client systems running smoothly.
Kaitlin Schneider (KS)
As marketing coordinator, I support client and prospect communication efforts, and I am responsible for creation of content assets, the monthly enCore newsletter, maintaining our blog, and spreading the word about CoreTech's services.
1. Have you been working remotely 100% of the time, or are you rotating in- and out-of-office?
Either way, what
has that been like?
MB: I've been working from home since we started, and it's been good so far.
AW: I go into the office one day out of the week, usually on Thursdays, but otherwise I've been working from home. Going back and forth is good. The office is really quiet since we only have a skeleton crew onsite. Transitioning back and forth is relatively easy—I carry my laptop and my desk phone with me in a backpack and set it up in the office when I return. I've eased in nicely to that routine.
RA: I have been working from home full time, since the pandemic started. It has been an interesting experience to say the least… I used to not like working from home, but so far I have enjoyed the quiet (almost feels calmer).
KS: I have been working remotely 100 percent of the time. It's been a bit of an adjustment for me, since now my significant other and I are sharing our "office space" all the time. I wasn't quite used to spending that much time with him—or anyone—all at once, but it's been going well. And it's certainly nice to be able to still talk to someone face-to-face throughout this. I can't imagine going through it alone.
2. Do you have previous experience working from home?
MB: I do. I worked in sales previously and had days where I could stay home. And I traveled for that job, so I worked trade shows during the day and did my "daily" work while logged in from my hotel room at night.
AW: I've done it a few times, a day here and there. Nothing quite like the current length of time.
RA: Yes, I used to work as a help desk representative for work-at-home call center agents.
KS: A little bit here and there for previous positions, but nothing as long-term as this. It's a very different feeling than being in the office every day.
3. How has the current situation changed your work processes or routines?
MB: You know, my routine has changed a bit. I've had to section out my day, so I have morning goals and afternoon goals. Like by 9am, I have to have any unread emails returned. Or by noon, I have to have quotes sent out. That way, after lunch, I can work on any prospecting or calls that need to be made. I have to be more diligent in my planning and timing to get through my routine a little better.
AW: There aren't really a whole lot of changes. I guess the big one would be that I don't print things out now for editing or markups; it all gets done online. Communication has of course changed. I can't hop up and go to someone's desk to ask them a quick question. More video calls, fewer desk visits!
RA: I don't feel like my situation has changed all that much. The commute between work and home is significantly shorter now.
KS: I don't really have any significant changes to note, either. Like Angela said, it's mostly not printing items. And of course, communication is different, but I like learning how to use the new tech. I've tried to keep my processes and workflows the same, even though I'm working from my dining room now.
4. What are some of your favorite things about working remotely?
MB: I really enjoy being able to walk down to the kitchen to make my lunch! I don't have to prep it the night before, so that's a nice advantage.
AW: It's quieter at home, and I can focus more. Plus, I have my little office assistant, Jeremiah, next to me. I really like the tools we use to collaborate like Slack and Zoom—and now Microsoft Teams, since we've starting using that. It's fun to use the features that you normally set aside when you're in the office because you can just hop up and go talk to somebody.
RA: I can work in my pajamas now, and no one is the wiser. Well, except now, of course…
KS: The lack of a commute (I've saved so much money), the relaxed dress code, and the quiet. I can focus better at home—at least when my neighbors' dogs aren't barking up a storm.
5. What are some of your least favorite things about working remotely?
MB: I don't like that I can't just pop by someone's desk to ask for help. I instead have to rely on communication tools like Slack or the phone, and sometimes emotions get misconstrued during those conversations. When working from home, communication tends to be shorter, to-the-point, and there isn't really a conversation involved—I miss that.
AW: Not getting to see everyone in the office…the interaction with people. Especially the impromptu watercooler conversations. But, we've been making an effort to still give people that through video calls, virtual get-togethers, and more frequent usage of our #random, #kudos, and #celebrate channels on Slack. It's just a little more difficult because you miss out on body language. But honestly? Besides those things, working from home has gone pretty well—although a scanner at home would be nice!
RA: There isn't anything. I really enjoy working from home.
KS: I really miss the chitchat of the office, the constant hum of activity in the background, the being able to see other people and ask for help or clarification instead of waiting for messages or calls.
6.
Describe your at-home workstation. Do you have an office, or have you had to adapt?
MB: I have my own workspace for everything. I do have an office, so I'm able to do all my things. I have a dual monitor, which is nice. And a fully functioning setup. And of course, my radio—so I can listen to my music. That's an important part of my life, to get to be able to listen to my music as I work. I am very fortunate to have my own workspace, so I don't have to worry about moving or adjusting things. It's really nice to be able to have a space that's not shared with bills and everything home related. So I'm set for as long as we keep working from home.
AW: My workstation is an IKEA writing desk, so I have my laptop and a second temporary monitor. And my desk phone is to the right. I do have a dedicated office/library space. I am fortunate that we have the space. My first week at home I was working at the dining room table, but I've since moved in here. We already had the little desk, so I just moved right in.
RA: My personal computer is built for online gaming, so it has enough horsepower to handle my day-to-day routine. I have a decent 24" monitor with an ergonomic stand. I do have an office space in my basement, and I share it with my fiancée.
KS: I don't have a dedicated office space. I work on one half of my dining room table while my boyfriend uses the other half. I have a laptop, and my desk phone is plugged in a few steps away from the table. So, I've adapted a bit. Occasionally, since we only have one office chair and I can move anywhere with a laptop, I'll work on writing projects from the couch. We also have to coordinate calls, as some of ours are scheduled at the same time, so I am often taking Zoom calls from the bedroom.
7. What is your routine like? Do you repurpose your commute time
?
MB: Well my commute time is saved, so I actually start working around the time I would have normally left my house. I get a little bit more time in the morning since I don't have to wait for my son to get to the bus stop, and I have more awareness that my house is functioning as it should! And at night, I would normally leave the office around 4:50ish to get home a little earlier, but now I find myself staying logged in later, sometimes 'til around 5:30 because I only really have to wait for my husband to get home and I already know my where kid's at.
As far as my routine goes, I put myself on a timer limit for certain parts of the day. Sometimes I'll take the dog for a walk over my lunch break, just to get some fresh air, but I never eat lunch at my desk. I always get away from the workspace for an hour so I can come back to it fresh. I feel like if you don't have that part of the day where you can step away, your day just isn't as fulfilling.
AW: Well I use my commute time to sleep in a couple extra minutes or have something for breakfast. My commute time was not too long. I take intentional little breaks throughout the day to get away from the screen, but working from home isn't any less busy. Sometimes it feels more intense due to instant messaging communication and planned Zoom meetings. I do try to take a short break in the morning and in the afternoon just to stand up from my desk, and I still take a regular lunch break. My husband and I make and eat lunch together since he's also working from home. I'll take it easy for a bit and then come back to my desk.
RA: My routine isn't all that different from before. I would get up, get dressed, comb my hair, eat breakfast and then I'd drive to work. Instead of driving, I just walk downstairs and get on my computer. And I have repurposed my commute time with more sleep.
KS: I've kept my routine close to what it was before. I try to get up around the same time every day, eat breakfast and have a cup of coffee—that second part's essential—and watch a bit of the news or watch a comedy on Netflix. I start work at 8am and I log out at 5pm, every day. I always take an hour for lunch, and I never eat it at the dining room table, since that's my "office" now. Instead, I sit in the living room and relax. My phones go on DND, my laptop is locked, and I relax for that hour. And as for commute time, I keep telling myself to use it for extra reading time or a workout, but I find myself sleeping in instead.
8.
How do you stay organized while working from home? Are there any special tricks around planning your day? Any special software that you use to stay on track?
MB: I have a notebook I keep my things together in, like my list of what the goals are for that day. That way I can check them off and I feel accomplished, knowing I'm getting through things. And at the end of my day, I'm making the list for the next day—and I know what my steps are. I can see them right in front of me, better than I could on a computer.
AW: I use the app that I used in the office called ToDoist. That keeps me organized. I still have a notepad here if I need to jot down to-do items that way, but my desk has less space, so I have to keep from piling things on it.
RA: Ironically, I don't. I am not the kind of person that has a physical organization system. In fact, the thought of these things overwhelms me. I prefer to keep it all in my head (which is typically ill-advised) but it works for me.
KS: There's no special software. I use the same planning tactics I've used since college. I have my day blocked out on an Outlook calendar to keep track of exactly what I need to do and when. From that calendar, I create a handwritten to-do list because I love the satisfaction of physically crossing things off a list—it sounds weird, but it works great for me.
9. How do you motivate yourself while working from home? What do you do to switch on
"
work mode
"
in the morning when your commute is only a few steps across your home?
MB: It's easy to motivate myself since I can just shut my door. That way I can't wander off to do things. My kitchen is downstairs, so I have to actually think about snacking. Like, is it really worth it? I just lock myself in.
AW: I set goals for the day. We don't have kids, so I don't have a lot of distractions. I just come in to my office with the dog and close the door. We did have a teacher parade go through our neighborhood the other day, so I watched that through the window, but aside from package deliveries, there's not a whole lot going on in our neighborhood.
RA: I typically don't need motivation to do my work. Might be something drilled into my head, not sure.
KS: Since I have the set space on the dining room table, I have a mini commute from the couch to the dining room. I sit down and read through my to-do list for the day and just dive right in. There's no secret formula for motivating myself in the morning. Unless you count my cup of coffee as motivation.
10. How do you keep from feeling lonely or isolated during this time?
Are there any unique challenges to connecting with your coworkers?
MB: It is super lonely at home! I was telling my husband the other day that I miss my work family. It's always really nice to see a face, so video calls are nice. It makes it personal and fun, a bit closer to what it's like in person. You feel more connected, like a team. I really miss the face-to-face aspect. Our #random channel on Slack is fun. It's great to be able to share something quirky that's not related to the work, because you've gotta be able to bond with people personally as well as professionally, especially when you're not in the office.
AW: I reach out to my team members every one or two days, so that's helpful. We have our daily huddle to touch base—and keep in touch via Zoom with other gatherings, too. My chamber networking group gets together on Zoom once a week, and we had an online social aside from that. I talk to several people during the day, and then, with the pandemic going on, I get together with family and friends on Zoom in the evening as well. For instance, we did a family call for Easter, and that went really well!
RA: I don't really notice any unique challenges in communication. I find it easier, since I'm not very good with verbal communication with my coworkers. I find it easier to explain things using chat tools.
KS: I make more of an effort to message coworkers than I did before. Learning how to use Teams has been interesting, but it's a really useful tool for working together and staying connected. The extra meetings and socials that CoreTech has put together, in addition to our morning huddle, have really helped.
11. How do you balance work and home in a situation like this?
MB: I shut my door and keep working all day long. I plan a noon or so lunch and I mark myself as "away," so people know I'm not available. I usually have fun with that by using an emoji of food or something to update my status on Slack. Otherwise, I have a schedule like I would in the office, and at the end of the day, I'm thinking about the next. I keep myself accountable to the work I'm doing with my to-do list, and going through my accomplishments daily lets me switch off at the end of the day, knowing I got done with what I needed to. My nightly activities haven't changed a lot either. During the day, I'm a very outgoing person, because I enjoy sales and dialing up people on the phone, but at night, even before this, you'd rarely find me out. Maybe at Barnes & Noble by myself—that's a Molly date night!
AW: Even working from home, balance is still important. I still want to have some separation so I can come back fresh . For me, it works that I have a separate room, and when I leave for the day I can just shut the door. Then I'm not really thinking about work at night and I can come back in the next morning.
RA: I start at 8 and end at 5, unless there's an emergency or something that needs finishing up. That way I can still spend time with the family, and I give myself the mental break that I need.
KS: I don't have very many obligations outside of work, so if there are some chores or we need to go get groceries, they usually are on that night's agenda. Work is work, and I keep focused on it throughout the day. When 5pm rolls around, I stop working and start doing my own thing. Usually, if I feel like I could keep working, I'll funnel the energy into, you know, actually doing the housework before I switch on Netflix or read a book.
12. Do you have any additional tips you would add for someone who might be new to working from home?
MB: Take it all in stride. It'll be hard for the first week or so, as you figure out what works and what doesn't. Just remind yourself that you're not home to do chores. Make yourself accountable, and find a way to make your work life similar to what it was like in the office, like if you have your President or CEO standing behind you to make sure you're getting your work done.
AW: I would recommend a few pieces of equipment, like a headset. It can help a lot, especially for people who have families. It cuts out extraneous noise, but it also lets your family or roommates know that you're working and shouldn't be interrupted. Multiple monitors will help keep you productive—you can see our checklist of essentials for more ideas—there's a lot of good stuff on there.
KS: I'm kind of a newbie to it myself, but I guess my tip would be to take it one day at a time and figure out what works best for you. Not everyone's routine is the same. Since it's just my boyfriend and I working here, there's not a lot that interrupts us and we both keep focused on our work. So some things may work for me but not for others. Don't be afraid to try new things and figure out what works best for you. Oh, but there is another big one. Get dressed. Even if it's just another pair of comfy clothes, don't wear your PJs all day. You just don't feel quite like yourself.
No one's experience is the
same,
but
working from home
doesn't have to be difficult.
If you have any questions about how to keep up productivity and accountability while working from home, CoreTech is here to help with the tools and tactics you need.
Contact us today for a free evaluation of your remote work capabilities!