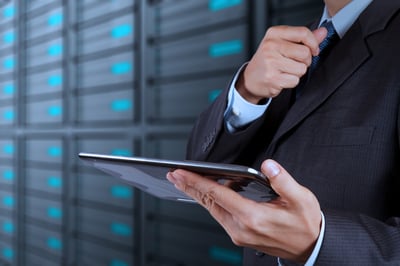 If your Omaha business is in the process of moving to a new building, it's critical to look at the internal wiring of a building before signing a lease. Without confirming the stability and maintenance of the cabling, your business could experience electrical shortages, physical damage, or downtime. We've created an easy, 3-step checklist to guide you through what to look for when moving offices, including some recommendations if it's an existing or new building.
Your Wiring Checklist When Moving Offices:
Step 1: When you're looking for a new location
When looking for a new office location, you want to be certain the building is in an area that offers fiber optics to support your Internet connection. If they don't supply fiber, you may be paying over $25,000 to install it. Alternative options include wireless internet from Cox, CenturyLink, or a cellular service provider.
Consider the downtime your business can live with if the internet goes down. Some businesses have more than one service provider for redundancy purposes, so you may consider this for your new office space. Keep in mind that some Internet companies may charge setup costs if they do not already have access to the new office geographic area. If you work with a building or IT project manager, they will help determine any costs involved and also let you know if the location is worth moving to.
Step 2: Once you've found a location that fits your needs.
Ask your IT service provider to walk through the site you have selected. Once you have chosen a space, your IT provider's wiring technician will come onsite to examine the wiring in the building. They will examine the internal wiring from the server room to each staff person's space and each piece of data equipment for connectivity and quality purposes.
The wiring technician will also check to be certain that cabling to the following machines is available or installed:
Network printers
Access points for WiFi
Fax machines and copiers
Postage and credit card machines
Plotters
Point of sale registers
Vending machines
Projectors
And any other equipment that would require a network connection
Step 3: Determine how many networks you will need
If you are implementing security equipment and cameras, keep in mind that newer camera systems use standard data cables, which could be installed along with the rest of the low-voltage cabling. Security systems usually have their own network, but the equipment is almost always in the same data room.
You will need to communicate with your technician if you use one network for the VOIP phones and hardware, known as a pass-thru system. A pass-thru system connects the data wall jack to the phone and the computer, separated by a V-Lans cable on the network.
Another method is to place your VOIP phones and hardware on separate networks. Every user will then need at least two jacks, one for a phone and one for a computer. Any additional equipment would require another jack, but it's all dependent on your preference for Internet traffic and speed. Talk to your IT project manager to decide what might be best for your small or midsize business.
Your IT project manager will gather information about your office's technology equipment and needs. They will then be able to determine a total cable count based on multiple or singular networks for each user and any additional cables for equipment, including security cameras. The project manager will provide you with a quote for the work and communicate to the wiring technician or team what is needed to complete the project.
Keep in mind:
If this is a new building
Your wiring technician will ensure all building codes, including fire and electric, are followed. Using the newest category cable is recommended for faster internet speed. They will also choose the right type of cable depending on the type of ceiling. For example, if the ceiling is used for cold air return, then a plenum cable is used, which is less toxic when it burns. If the building were to catch fire, plenum cable would slow down the spread of flames and reduce smoke and toxic fumes from circulating throughout the building.
Electricians can install conduits from above ceiling height to a low-voltage ring. This is considered a best practice as it protects the cable during construction. You can drop a low-voltage cable down an open wall, just not protected. It may take longer if the wall is insulated, but cheaper options could potentially lead to liability exposure.
If this is an existing building
When moving to an existing building, you will want to have a wiring technician review the installed cables. Older cabling might be installed in a round robin where the cable goes from one jack to another in a circle, leading back to where it came from.
For the best optimization, each piece of equipment needs its own wiring cable to work properly, round robin configurations are replaced. Cables must be category 5e or category 6 to maintain optimal network performance.
Call for cabling with CoreTech
The least expensive time to add cables to your building is when you select the new office location but before the move-in date. Include your IT provider early in the process to avoid construction and installation surprises, and your moving process will be much smoother.
Don't have an IT service provider? Contact us to learn more about how we can save your business time and money by outsourcing your IT.
Relevant Blog Posts