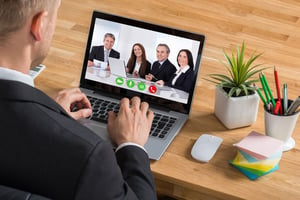 Whether it's to touch base with your team or follow up with a manager—or even just to check in with family members—much of our lives today revolve around video calls and applications.
But not every video conferencing solution is built the same, and there are some clear go-to choices for businesses. The top contender today is Microsoft Teams, and it is quickly becoming the standard for video calling in the realm of business.
Why is Microsoft Teams the idea
l
solution for video conferencing?
The application is easy to use.

Microsoft Teams has a vast array of features and settings.

It

eliminates webinar limitations.

Teams tops the competition in security.
Microsoft Teams is Easy to Use
Getting started with Microsoft Teams is fast and easy, and if your company is already using Microsoft 365, you already have access to the application.
Plus, since it is an application in the Microsoft 365 suite, it integrates with the other apps you use every day. So, you have quick access to your Word, Excel and PowerPoint files. The Teams application also syncs up with your Outlook calendar, so staying organized for your video calls is a cinch.
The Vast Array of Features Allows you to Customize Your
Video Calls
From Together Mode to Virtual Backgrounds, Microsoft Teams offers a number of features and gives you the ability to customize your video calls to suit your specific needs.
Teams Supports Video Calls
,
Big and Small
Whether you'd like to have on-one-one meetings or even massive, company-wide events, Microsoft Teams can handle it all. The table below explains Teams' capabilities when it comes to the size and duration of video conferences and events.
| | |
| --- | --- |
| Feature | Maximum Limit |
| Number of people in a meeting | 300 |
| Number of people in a video or audio call started from chat | 20 |
| Live Event Audience Size | 10,000 |
| Duration of Event | 4 hours |
Control the settings and the appearance of Teams meetings with just a few clicks
The advantages of using Microsoft Teams don't stop once you've joined a meeting. In fact, you can control and change the settings for every meeting and event. Here are just two of the ways you can enhance your meetings.
Bring Everyone Together
With Together Mode, your video conference participants can be in the same room, even when they're far apart. A recent update to the interface, Together Mode pulls everyone into an auditorium-like setting, giving the feel of a face-to-face meeting. It provides a feeling of connection, unlike the "Hollywood Squares" effect offered by traditional video calls.
Messy backgrounds? Clean them up—or change them entirely!
If you didn't get a chance to clean your house before your big quarterly video call, there's no need to fret. With Microsoft Teams, you can blur your background so your coworkers don't see the clutter behind you. Or, better yet, you can use a virtual background, just like you can on Zoom, and make it seem like you're dialing in from a faraway place—or even another planet.
And, you can do all of this without ever leaving the Microsoft Teams interface, saving you more time for more important tasks.
Microsoft Teams eliminates large-scale event limitations.
If you've attended any webinars recently, chances are high that it was hosted through ON24. ON24 is a broadcasting platform that works adequately for webinars and live events, but it only goes one way. Since it's not a bi-directional event platform, completing Q&A sessions or trying to involve the audience gets messy and impacts the entire outcome of the event.
Not only can Microsoft Teams provide a bi-directional event platform, it can also again use Together Mode to make everyone seem like they are in the same event audience. This can provide a sense of togetherness and camaraderie commonly left unseen in a typical webinar audience. Not to mention, Teams could eventually combine with virtual reality to create even more inclusive online events.
Teams
tops the competition
in security.
At the start of the pandemic, everyone leapt to Zoom to solve their communication needs, but then people started experiencing "Zoombombing" attacks, and Zoom usage took a hit due to security concerns.
What is Zoombombing?
Zoombombing refers to the act of hijacking public Zoom calls. In other words, individuals jump onto public Zoom calls and use the application's screen-sharing function to project content—often graphic or explicit—to the entire event audience.
While Zoom may have recently announced that they were beefing up their security measures, Microsoft Teams has been a secure application from the start.
Built on the Microsoft 365 hyper-scale, enterprise-grade cloud, Teams delivers advanced security through two-factor authentication, single-sign-on and end-to-end encryption. All of these features offer you added peace of mind, knowing your private business meetings won't get hijacked by bored Zoombombers.
Microsoft Teams is becoming the standard in video conferencing on many fronts—have you taken advantage of the application?
If your business is struggling with collaboration or has had poor experiences using another software to make video calls, you could be impacting your reputation without realizing it.
It's time to see what Microsoft Teams can do for your business communication. Contact CoreTech's professional team for a consultation today!