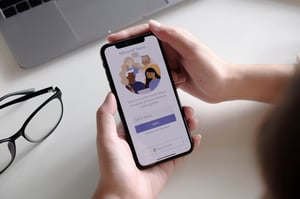 If you own or help manage a healthcare organization, you understand the importance of security, compliance, and thorough, thoughtful communication across your entire staff. You work with numerous patients every single day, and shuffle through information in droves in order to provide the best possible care experience.
However, without the right software and processes, your day-to-day gets cumbersome fast. Pulling information from multiple tools and databases, aligning schedules and shifts, handing off information—all while maintaining compliance and confidentiality.
That is a lot to handle.
If you're wondering about a way to solve those issues, we're happy to report that we have the ideal solution for you: Microsoft Teams.
And it really can help with everything across your practice, like:
Providing better virtual health experiences

Securing messaging for your healthcare staff

Optimizing collaboration

Coordinating shift management

Ensuring compliance

Simplifying administrative workflows
Provide better virtual health experiences for your patients
COVID-19 dramatically accelerated disruption in healthcare, raising demand for organizational shifts like telehealth and video-based patient visits.
Within the Microsoft Teams platform, and using their Electronic Health Record integration, you can schedule and launch doctor's appointments while protecting sensitive client information and getting them the medical care they need—wherever you are—and on any device with access to Microsoft Teams.
By clicking the button above, you will be redirected to a FREE one-page resource from Microsoft
Secure your messaging platform for your entire healthcare staff
Send chat messages, share images, and relay important, urgent information—all while knowing your information is secured through Microsoft's cloud security parameters.
Plus, with Microsoft Teams, your messaging capabilities are taken to the next level, with:
Targeting
You can reach the right members of the team based on role, skill, or location.
Priority notifications
Similarly, you can alert your team with automatic notifications that stress the urgency of the information.
Image annotation
It's also easy to capture images, annotate them, and share them on the secure platform.
Optimize collaboration so you can offer the best possible care in your area
Your healthcare practice handles a lot of patient information, and you no doubt want a better way to keep it at hand and organized.
Microsoft Teams can help improve the flow of information throughout your firm, including the real-time handoff of information.
The platform also offers list-building functionalities and pre-made templates specifically built for your industry.
See more in the video linked here from Microsoft: https://www.microsoft.com/en-us/videoplayer/embed/RE4IMx5?autoplay=true
Coordinate shift management with ease
With Microsoft Teams as your communication and collaboration hub, you no longer have to rely on sticky notes or whiteboards to manage your shift coordination.
In fact, with the Shifts capability, you can set up schedules with ease, fill open shifts at a glance, clock in and out, and add new shifts/swap them with others. And once you've updated it all, you can share the shift changes with your entire team—it's really that easy, and all housed in the same great platform!
Ensure Compliance with the power of the Microsoft 365 Cloud
Since Microsoft Teams is a part of Microsoft's 365 suite of applications, you receive the same excellent security and compliance measures as you would with your other Office tools. Microsoft Teams satisfies the requirements for HIPAA compliance. And, the software also supports HITRUST, SOC 1 and 2, and GDPR.
You can read more about the specifics of Microsoft Teams and HIPAA compliance in our previous blog post, and the remaining compliance standards on Microsoft's website.
Simplify your organization's administrative workflows
Tired of repetitive tasks taking up the time of your employees? Automate them with Microsoft Power Automate. It works with over a hundred different services, including Microsoft Teams.
Using Robotic Process Automation, or RPA for short, Microsoft enables you to create numerous flows and save time.
For example, say you just finished working with a patient. You'll need to extract several data fields and add them to your patient tracking system. Doing this manually is tedious and takes up precious time in your already busy schedule—time that you could be using to serve additional patients with excellent care.
With Power Automate, you can instead set up a desktop flow, review it, edit it, and then watch it come to life.
The best part? It's easy to scale, too.
Learn more in this video on Microsoft Power Automate: https://www.microsoft.com/en-us/videoplayer/embed/RWGGFF?autoplay=true
Microsoft Teams is the optimal solution for your entire healthcare organization
And CoreTech is the optimal consultant for your Omaha IT needs. That includes configuring and deploying Microsoft Teams across your healthcare firm.
From providing the best virtual health experiences for your patients to ensuring messages are secure, to shift management coordination and compliance requirements, we can cover it all, and have done so for a number of clients across the Omaha, Lincoln, and Council Bluffs metro areas.
Schedule a meeting with us today to discuss your organization and find how to make Microsoft Teams work for you.