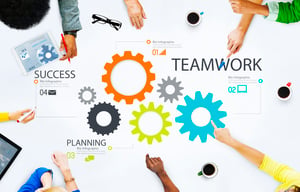 Microsoft Teams has found new life during the pandemic, as organizations scramble to find ways to work together while socially distancing.
At first glance, Teams seems to be just like every other messaging platform you have used before, but it is actually filled to the brim with features as a powerful collaborative workspace.
Teams
and
Office
365
Integration
Teams is part of the Office365 platform and can be fully integrated with SharePoint, OneDrive for Business and OneNote.
This integration allows seamless document sharing and editing among work and project groups. Since all data is easily shared from one central platform, any information like project documents, meeting minutes, and chat history is easily accessible. When team members change, they can be added to the group and easily be spun up on current information to hit the ground running.
Pro Tip: The next time you're working on a Word document and your colleague isn't available to edit in real-time with you, simply @mention them. They will receive an email that will let them know you're trying to reach them in the document.
Real-Time Collaboration
Within Teams, documents can be edited and worked on simultaneously, allowing for active collaboration on company files. These documents can also be shared with clients and vendors outside of the organization, allowing for quicker response and turnaround times on tasks.
Pro Tip: Take advantage of the hundreds of Connectors that you can use to further streamline operations within Teams. For example, if you're working on a project and need to delegate tasks to team members, look into project management tools like Trello or Monday.
If you need signatures on documents, you may find the DocuSign connector comes in handy. These applications, and many more, work directly in Teams, so you can efficiently accomplish tasks without leaving the interface.
Teams C
alls and C
onferences
Teams also offers the ability to call others with both voice and video. No longer will your organization keep track of multiple programs, scheduling meetings, and pre-sending documents. Teams allows you to do all of that within one single platform.
Since everything is integrated when you schedule a meeting, it automatically populates on your calendar. A workgroup can check schedules before setting meeting times and have that meeting show up in their calendar, both on teams and Outlook due to the Microsoft 365 integration.
Your invitees won't have to find a link, download software or authenticate a second time because Teams will notify the members of upcoming meetings with a button to join. Also as discussed, documents will be available both in the Teams channel, if the meeting was made for that channel specifically, or shared from SharePoint.
Pro Tip: Save time when scheduling meetings by using the Scheduling Assistant. Just look for a time when everyone is available, and click "Schedule."
Teams is a great resource for companies to keep their company data organized and easily accessible for all their users to help streamline communications, and getting started with the application is easy. Contact CoreTech's expert IT consultants today to get started.