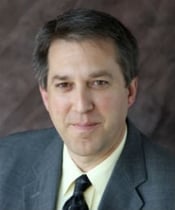 Tom has worked in technology for 21 years and with CoreTech for 15 years. He started his career at CoreTech as an account manager, and as the business continued to grow, new areas of business were needed. Tom is currently Director of Virtual CIO services. I sat down with him to find out how his love for technology has grown over the years.

What do you enjoy most about your role here at CoreTech in working with business and technology?
What I enjoy most about my role at CoreTech is that I am able to help people with their business issues, or even personal issues. What drives me is knowing that at the end of the day my clients are better off in some way than they were before. Working in business and technology allows me to do something different all the time, and I really enjoy the fact it's always changing.

How did you get started in technology?
My interest in technology came when I was working for Musicland. I was in personnel management, so I handled all the HR issues within the office. Back then it was all mainframes, so when the PC first came out I was able to use it for reports and that sparked my interest in technology. From there I worked in administration for a hospital and soon after came to CoreTech and got into sales. Even though I vowed I would never do sales because my father was a sales person, here I am, selling technology services, and I love what I do!

Tell me about your family!
My wife Paula, of 22 years, works at Omaha Public Schools in the administration building and is responsible for the benefits within OPS. My son, Ryan, is 18 and graduated high school just recently. We have been very busy this past year visiting colleges and Ryan has decided to attend Kansas State University and major in architectural engineering.

What do you like to do in your free time?
Much of my free time has been spent attending athletic events. Ryan, my son, has been in football and basketball since he was six, so those activities kept my family busy throughout his school career. Along with athletics, my family and I spend our free time at church activities. We have met a lot of great people over the years. Fishing and golfing are some of the hobbies I enjoy. Every year we take a family trip to Minnesota for a weekend of fishing. Golfing is my personal hobby, I don't do it as must as I used to though. Previously, I golfed about two to three times a week, however my wife enjoys golfing with me as well so it's really become a family affair.