1. Tell me about your position at CoreTech? What do you do on a daily basis?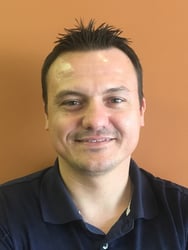 I am a Systems Engineer which means I am in charge of implementing and managing client systems. I've been with CoreTech about a month, however have been working in technology much longer than that.
2. What is the coolest thing you are working on right now?
Right now I am working with Microsoft Azure which is a cloud solution that takes computing to the cloud.
3. What do you enjoy most about working in technology?
I really enjoy learning something new every single day, a
nd working in technology provides that.


4. Who or what inspires you?
My older brother. He was a businessman at a really young age, and his success at what he does inspires me.
5. What types of movies shows do you like? What do you like about it?
I would have to say my favorite show is Band of Brothers. I really like World War II drama movies because they are typically based on real-life historical events.
6. If you could swap places with anyone for a day, who would it be and why?
I would swap places with Kobe Bryant because he's very driven and focused.
7. Tell us an interesting fact about yourself?
I enjoy putting together terrariums, which are self-containing ecosystems. I have put a number of them together and they are very relaxing to build.
8. Tell us about your family. What do you like to do together?
I have three brothers. My dad, older brother, and I enjoy fixing cars together.
9. If you could have any one superpower, which would you choose?
I would choose the ability to fly because then I could go anywhere at anytime.