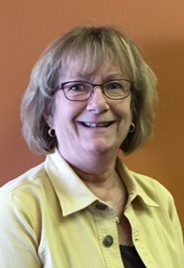 Meet Sue Sims! She is a Unified Communications (UC) Engineer. Sue programs most of the phone systems that come from us and puts together the user-guides/manuals that clients receive with their new phone systems. She also helps with the cut-over for larger jobs where we transition a whole business from an old system to a new one. Read on to learn more about one of our outstanding UC Engineers!
What do you like most about your job?
I like that I never get to a point where I know everything. I always get to learn something new every day and overcome different challenges. I started working with phone systems about 30 years ago and so much has changed since then. I started as a customer, myself, and then transitioned into installing phone systems.
When you're not working, how do you like to spend your time?
I like to spend time with friends and family, it doesn't even really matter what we do, it's always a good time. I also love going to the small-town festivals in the area. I really enjoy spending time with my grandkids when they come into town to visit.
Where is your favorite place in the world?
I would have to say Fargo - because that's where my grandkids are. Other than that, I was fortunate enough to be able to visit the east coast of Australia and absolutely loved it. The beaches are beautiful, the water is clear and the people are friendly. Highlights were visiting Daintree Rainforest, snorkeling the Great Barrier Reef and holding a koala. I highly recommend it!
How would you describe your family?
My family is large, diverse and close-knit. We always try to get together for the holidays. But I have seven siblings and we all have kids and our kids now have kids, so we no longer have a place where we can all fit. So if anyone has any good suggestions on where a large family can get together for the holidays, let me know!
I have three kids, one is in DesMoines, one is in Omaha and one -with my three grandkids- is in Fargo. I recently got to go visit my family in Fargo and did a lot of running around with the grandkids. We went to the zoo, went up to the Detroit lakes and went boating and swimming. It was a lot of fun!