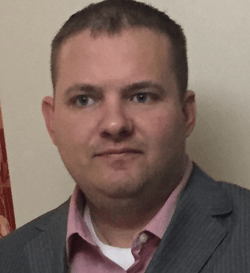 Ryan Poutre has been working in technology for 10 years, spending two years at WatchGuard Technologies, a threat management appliances manufacturer. I had the chance to meet with Ryan and learn a little more about him, his years in technology, and some interesting facts about himself!
What is your role at WatchGuard?
I work at WatchGuard as a Sales Engineer for the Northwest Region and am based out of Minnesota. I spend my time supporting our partners, like CoreTech, quoting sales, training technicians, fulfilling security needs, and conducting product testing.

What do you like about working for WatchGuard?
I love the security industry/field. It's always changing, so days are never the same, which means things are never boring.

What's the biggest thing small business's miss when securing their systems or data?
The biggest thing I run into that small business's miss, is training their employees on good security measures. Often times, security basics are what employees need training on, like "Don't click on this link," or how to recognize scam emails.

What is the most interesting job you've ever had?
Working at WatchGuard is honestly the most interesting job I've ever had. I have the opportunity to meet all kinds of people, attend interesting events that outline security vulnerabilities, and get a sneak peek into the world of a hacker. I attend a number of conferences each year that have to do with security and what hackers are doing. As well I conduct demonstrations on tools that hackers use so that small businesses know what is occurring, how they are vulnerable, and how they may protect themselves.

What do you like to do for fun?
I love to spend my free time with my kids. Together we enjoy spending time outside, whether that be fishing, hiking, or playing sports.

Tell me about your family!
My wife, Bethany, and I have 3 kids, six-year-old Rowan and nine-month-old twin boys, Kade and Kysen. As a family, we pride ourselves on being outdoor people and always staying active.

Tell me a random or unique fact about yourself!
I grew up in a family of construction workers and did not actually get into computers until college. I did play football, and when I was working a maintenance position, I was offered the opportunity to take classes with the company to become their IT manager.

What's the best vacation you've ever taken?
My wedding was the best vacation I've ever had. My wife and I spent 10 days in Cancun where the beaches and drinks were plentiful!

What is an important lesson you've learned?

An important lesson I've learned is that it is important to gain good people skills. It helps not only in your business life, but also your personal life. People skills assist with a majority of the problems you face in life. The ability to read people and adapt to their demeanor is critical to success in both life and business.