Peter Stratos is a Systems Administrator here at CoreTech, and joined us about three months ago. He works with eight clients as their IT Manager and oversees their technology systems proactively, remediates any problems they may be having, and works on projects.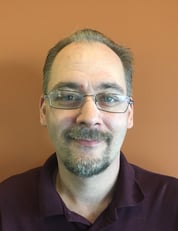 What do you enjoy most about working in technology?
I really enjoy working in the technology industry because of all the challenges and troubleshooting issues that arise. I have been in the industry for almost 20 years and there have been a lot of unique problems that I have been able to solve.
Who or what inspires you?
I would say my father inspires me. He was an auto mechanic, so he did a lot of trouble shooting on car engines. After seeing my father work in this industry, I decided that I also wanted to troubleshoot problems but on computers instead of mechanics.
What type of movies do you like? Do you have a favorite movie?
My favorite types of movies are definitely Sci-Fi and action. If I had to pick a favorite movie, it would be Excalibur because it ties into my interests of the midieval era.
If you could swap places with anyone for a day, who would it be and why?
I would swap places with a park ranger because their job involves camping 24/7, and I could constantly be out in nature. Ideally, I would want to be a park ranger anywhere in the white mountains.
If you could have any one superpower, which would you choose?
I would choose the power of invisibility. It would be awesome to have the ability to see whats going on without being seen.
What is your favorite hobby?
I have a couple favorite hobbies. I really like rock climbing, camping, and mountain climbing. I climbed Mt. Lafayette, which is a 5,249 foot mountain in the White Mountains. It's on my bucket list to climb Mt. Washington next, which is the highest peak in the Northeastern United States at 6,288 ft.