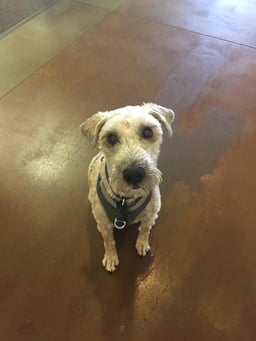 Louie is a Soft Coated Wheaten Terrier and has been our door greeter here at CoreTech for about four months! He spends his time walking around the office looking for dropped food, saying hello to employees, chewing on his bone, and greeting people at the door. If you're ever looking for him or wondering where he is, you will quickly find him outside of Chris' door or by Frank's desk!
Tell me about yourself.
I'm a seven year old Soft Coated Wheaten Terrier and recently became a part of the Vilim family! I was adopted by an older couple when I was just a puppy and they could no longer take care of me so the Vilim's took me in this past year. So, now I have a new home! I love being a part of their family I get more attention, love, and treats than I could hope for!
What is your favorite part about coming to CoreTech?
I love all of the people here and the attention I get when walking around the office. I like that I get to spend my day with a bunch of great people, and now I get to spend my whole day with Chris!
Do you have a favorite employee?
My favorite employee would probably be Frank. He's always willing to throw me a snack and sneak me some food from the table. It's fun to hang around his desk and see what he's up to!
What do you like to do in your free time?
I love running around in the snow during the winter! There's no better feeling than rolling in the snow, I could do it all day! However, when the snow melts I find myself chasing the squirrels in my yard at home. It's sort of like a game of tag but I'm always the one doing the chasing!
Do you have any fears?
Rabbits and rain are two things I always try to avoid. If Chris let's me outside when its raining or wet out I get on my tip toes so I don't get my fur wet. I hate the feeling of my fur sticking to me! Rabbits on the other hand, are very intimidating. I don't like the way they hop around our yard so I always run the other way when I see one.
What is your favorite snack?
I'll eat anything that has cheese in it or smells like bacon!