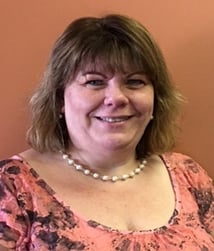 Working here since June 2016, Lori is CoreTech's Sales Operations Coordinator. I had a chance to sit down with Lori to learn a little bit more about her and here is what I found out!
Tell me about your role at CoreTech?
As Sales Operations Coordinator, I am responsible for quoting and ordering maintenance support renewals for clients. This process involves quoting opportunities for the sales staff, as well as ordering and receiving the products. I also schedule meetings for the sales staff to meet with the clients and to review their IT needs.
How did you get started here?
I am new to CoreTech, I started June 1st of this year. I previously worked in technology education as an Executive Assistant to the Director. While working closely with the Systems Administrator there, I enjoyed learning some of the backside of technology, so what better place than CoreTech, to further increase my knowledge of technology.
What do enjoy most about your work?
There is such a variety of work to do that keeps me very busy and I like that. I am constantly learning, everyone is very helpful, and we all work well as a team.
What is the most interesting or unusual job you've ever had?
I worked for an information database company where I was hired as an Administrative Assistant and actually learned to write some simple script to test databases the programmers had designed. It was quite interesting since I had no idea what I was doing!
Tell me about your family!
I have three children, three grandchildren and one on the way. My daughter, Amanda is a library paraprofessional at the elementary school in our hometown. She is married to Chris who works as an electrical engineer for a local school district, as well as co-owns his own heating and air conditioning business. They have two boys, Keegan, nine-years-old, and Ryder six-years-old. My oldest son Zac is in charge of maintenance at a large apartment community here in Omaha. Cody is my youngest, he is a diesel mechanic and part-time real estate agent. He is married to Andrea who is a pediatric RN, they have a one-year old daughter Koraline and a baby due in March 2017. Cody, Chris and Andrea are also volunteer firefighter/EMTs with our local fire & rescue department.
What do you like to do in your free time?
I enjoy spending time with my family and spoiling my grandkids. I also design and make jewelry to sell. I enjoy going to small town boutiques, craft fairs and Junkstock.
Tell me a unique fact about yourself!
I saw Elvis in concert in 1975 at the Omaha Civic Auditorium.
If your house was burning down and you could save one (nonliving) object, what would it be?
My engagement/wedding rings.