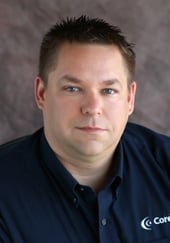 Working here since June 2000, Joel has been with CoreTech for 16 years and from the beginning of our company. He started out as a Systems Administrator, but as the company grew, new areas of business were needed. Joel is currently our Systems Engineer and Engineering Team Lead. I got the chance to sit down with him to find out more about himself.
What is your role here at CoreTech?
I am a Network Engineer and the Engineering Team Lead for CoreTech. I design and spec new servers and network equipment, take escalations from other support tiers, manage our CoreCare remote monitoring and management (RMM) software.
What do you enjoy about working in technology?
I enjoy that when dealing with technology, new things are happening all the time, but the older technology does not go away, it's just building blocks into the future. I can run command prompt commands and batch files against a Windows 2012 server that I ran against a Windows NT4 server. To keep up-to-date, we have internal lunches and learn training sessions a few times each month to have someone on the tech staff update the rest of the team with some new piece of technology they've been working with.

What's the most unusual or interesting job you've ever had?
I used to be a diesel mechanic in the Army. I would replace major assemblies on 2 ½ and 5 ton trucks and Humvees; engines, transmissions, transfer cases etc. I was stationed in Grafenwohr, Germany for 2 years supporting a Hawk missile battalion and Hunter Army Airfield in Savannah, GA for a little over a year supporting the 1/75th Ranger battalion. That was my first taste of being on call. We rotated teams to be on call for when the Rangers had to fly out with very short notice. Mostly our arms teams had to go with them all of the time but I nearly had to go with them to Panama. I got out of active duty just before the first Gulf war and spent 5 years in the Nebraska National Guard. I enjoyed my time and still keep up with quite a few of my buddies thanks to Facebook.

Tell me about your family!
My wife, Caryn, is a surgical RN/BSN nurse on the cardio vascular team at Bergan Mercy Hospital. I have 2 daughters, Kaycie and Allyson. Allyson is going to be a freshman this coming fall at Millard South, and Kaycie is going to be a freshman at University of Nebraska-Kearney.

What do you like to do in your free time?
My family and I like to go camping. We plan early in the spring or before once we know our schedules and make reservations at area state parks or rec areas. We like Louisville SRA and Ponca state park up around Sioux City.

Tell me a random fact about yourself!
In high school, I owned a '72 Mustang that I entered into a demo derby right before leaving for the Army. I didn't win, and I kind of regret that decision, I should have kept it.
What is the best vacation you've ever taken?
A few years ago, my family and I took a trip to the Grand Canyon, it's an amazing sight. We took a helicopter tour which opens up another level of awesomeness to see it from the different angles and up close. We walked some of the trails but not all the way to the bottom. What goes down must come up!