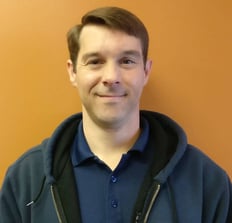 Originally with Telephone Connections, Derek was recently brought on at CoreTech as one of our Unified Communications Systems Administrators. His job is to handle service tickets dealing with phone systems. If someone has a problem or question dealing with their phone system, Derek is able to use his 20+ years of industry experience to find resolutions quickly. With the skill that Derek brings to the table, he has been a great asset to our Unified Communications team. View full article to get to know more about the guy behind the phone systems!
What is your favorite part about your job?
I'm just glad that I don't have to work outside. I have had to work outside at other jobs from time to time.
Who has inspired you in your life and why?
My dad. He was a good family man and worked hard his whole life. He really showed me what you can accomplish when you try hard.
What is your favorite holiday and why?
Halloween. My kid loves it and I love watching his reaction to it. To him, Halloween lasts all year long. This year he dressed up as Superman and since it was cold on Halloween, he had to wear his fluffy winter coat under his costume. So he looked like a chunky, little mini-Superman.
If you knew someone who was starting their own business, what advice would you give them?
Do your research and make sure you understand everything running a business entails. You need to be ready for everything that goes into running a business. Take into consideration that there is a lot of behind the scenes stuff you don't know until you get into it.
What is the most interesting job you've ever had?
I have been doing this for 22 years. Ever since I got out of high school. But the most interesting thing for me is to see all the different businesses we work with. It is especially interesting to go into all the different factories and seeing how they make their products.
Would you rather live for a week in the past or the future?
I would rather live for a week in the past so that I could spend some more time with my dad.
Tell us about your family. What do you like to do together?
Well, my mom is retired. I have two older brothers. My oldest is a VP at First Data and my other brother is a supervisor at Titanium Sprinkler. My wife is a supervisor at Wallman Optical and we have a 3-year-old son, Joe. We just like to hang out and have family dinners. I also like going hunting with one of my brothers.
You have the opportunity to get out of Omaha; Where do you go?
Probably to my place out in Colorado. I have a rental property out there, so I generally go up once a year to check on it. I think living in the mountains would be cool.