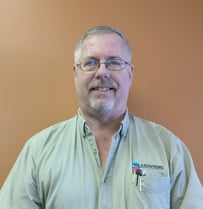 When you're having issues with your phone, Bob is your guy. Always happy to help, Bob is part of our Unified Communications team at CoreTech. He is a part-time technician who spends his hours installing phone systems, doing service and maintenance work, providing voicemail assistance and the like. Whether you're a client, or part of the CoreTech team, he's great to work with! Learn a little bit more about Bob by reading on.
What is your favorite part about your job?
I enjoy getting out of the office and making customers happy with the work we do.
What is your favorite musician/song?
My favorite musician is Steely Dan. They have so many good songs, it's hard to choose just one. But if I had to choose, I'd pick Hey Nineteen.
What is your favorite Holiday?
I'd say Christmas is my favorite. I like when the whole family gets together. It also brings a lot of nostalgia and good memories.
If you knew someone who was starting their own business, what advice would you give them?
"Be prepared for anything."
What is the most interesting job you've ever had?
I worked at the Omaha zoo in the mid '70s as a train conductor. That was before the zoo got as huge as it is now.
If you could swap places with anyone for a day, who would it be and why?
I would have to say Tiger Woods. I would really like to be able to play golf as well as he does.
Tell us about your family. What do you like to do together?
My wife, Tina, is a teacher. One of her daughters and grandson are currently living with us. We like to spend time gardening and trying new restaurants. My personal favorite is Mexican food. I really enjoy eating at Riveras.
You have the opportunity to get out of Omaha; Where do you go?
Anywhere that's not humid, which unfortunately eliminates a lot. I don't mind the heat though, so I think I would enjoy spending some time in Las Vegas. I did go to Vegas once, quite a while ago. It was a lot of fun. Especially if you have some money to blow.