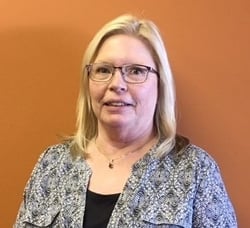 Chances are, if you call in to Core Tech you will speak with Barb at some point. She is our Administrative Coordinator and spends a lot of time on the phone with clients. She was brought on with our Unified Communications Team in June and has been a wonderful addition here. Read on to learn more about Barb!
What is your role here at CoreTech?
My official title is the Administrative Coordinator. I take service calls, help with special projects from the accounting or marketing departments, or anything else that needs to be taken care of. I enjoy keeping myself busy with new tasks each day.
Tell us an interesting fact about yourself?
I have been to Italy. It was an incredible experience. I was able to explore the churches, see the Pope at the Vatican, and even take a gondola ride!
What is your favorite song or musician?
I am partial to 80's music. But my favorite musician would have to be Elvis. I especially enjoy listening to Blue Suede Shoes.
If you knew someone who was starting their own business, what advice would you give them?
The best piece of advice I have learned along the way is, "Always keep the customer number one."
What is the most interesting job you've ever had?
I used to work in the Mangelsen's warehouse. I packed boxes and put together shipping orders. I later transferred into office work. I worked for Mangelsen's for 19 years and have been in office work ever since.
If you could swap places with anyone for a day, who would it be and why?
I would like to swap places with a brain surgeon so that I could save lives.
Tell us about your family. What do you like to do together?
I have two sons and three grandchildren. Our favorite thing to do is get together for a big family dinner. Usually we have a cookout where my husband smokes meat and I cook.
You have the opportunity to get out of Omaha; Where do you go?
I would love to go someplace warm. I went to Costa Rica a few years ago where I went ziplining and rode ATV's. It was a great experience and I would like to go back there.
What keeps you in a good mood?
My grandkids. They are very positive and make me laugh. They are always catching me off guard with the things they come up with.