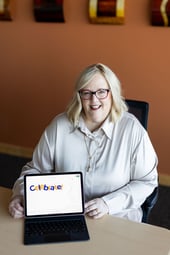 What is your role here at CoreTech?
I am the Director of Marketing and Communications. I oversee a variety of marketing activities including planning, website & blog management, prospect & client communications, and content development. I also assist with internal staff training and have recently started overseeing the purchasing department.
How did you get started here?
I started at CoreTech in January of 2010. I had previously spent 10 years working in marketing for the architecture and engineering industry. At one particular firm, I had the opportunity to market a technology engineering team. I loved working with technology and in marketing, so the move to CoreTech and continuing to work in technology was a natural progression for me.
What do you enjoy most about working in marketing at CoreTech?
I like the variety and that every day is different. I enjoy communicating with clients and prospects through different avenues and media. In addition, I enjoy the creative side of marketing, as well as the management of various projects over time.
What's the most unusual or interesting job you've ever had?
In college, I worked at a grocery store in the deli department. We sliced meats and cheeses to order, as well as cleaned and racked rotisserie chickens. I also put together fruit and veggie trays, and to this day still like putting those together for friend and family events!
Tell me about your family!
My husband, Devin, travels as a software consultant, and together we have a little eight-year-old Shih Tzu named Jeremiah. I grew up in the suburbs of Chicago, where my family still lives. Devin's family lives in California so we often like to take trips west to visit.
What do you like to do in your free time?
Currently, I am taking classes at Bellevue University toward an MBA. When I'm not in class or at work, I enjoy spending time with friends, going to the movies, and scrapbooking.
Tell me a unique fact about yourself!
In 7th grade I went to a Michael Jackson in concert in Chicago.
What is an important career lesson you've learned?
Essentially, do what you enjoy. I have always enjoyed the creative aspect of marketing, project coordination, and staff management. It really makes a difference when you go to work looking forward to your day and working with a great team.