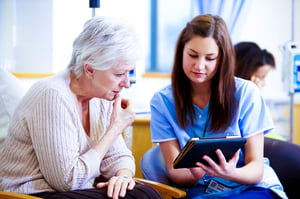 Cyber criminals often target organizations in the health care industry due to the type of data they access. Whether your organization is large or small, you are at risk for these attacks. Most modern cyber attack targeting is done by bots, using AI to scan for soft targets — they don't care about the size of their victim. If you're simply following governmental regulations regarding electronic health records, you're most likely not doing enough to protect yourself from new threats as they arise.
And the consequences can be disastrous.
According to Trend Micro's report Cybercrime and Other Threats Faced by the Healthcare Industry, the average hospital data breach costs $2.1 million. Together, these attacks cost the US healthcare industry more than $6 billion a year. Cyber attacks like these can impact your organization's financial well-being indirectly as well. A breach or other serious cybersecurity attack may cause revenue-killing operational and productivity loss, negative customer experience, and have an adverse impact on your reputation. One of the best ways to be certain that your health care organization is secure and protected from cyber attacks is to work with a security-focused managed service provider (MSP) that can implement the right security measures to protect your organization over time. In addition, MSPs work with your staff to train them to watch out for phishing emails, phone calls and CEO fraud attempts.
What Is a Managed Service Provider?
Before we dive into why health care organizations need an MSP, it's probably important to answer the question "What is a managed service provider?" A managed service provider, or MSP, is a business technology company that oversees and maintains an organization's IT networks, equipment, and software. This can include providing services such as IT consulting, regarding which systems and devices should be used to improve productivity, as well as network monitoring and support to ensure that the organization's systems are secure and running smoothly.
Managed service providers generally work with organizations from diverse industries, from health care and finance to manufacturing and retail. Since each of these industries has its own challenges and regulations, it's important that organizations work with an MSP that's familiar with their specific industry. This is especially important for health care organizations, to ensure they are staying up-to-date with HIPAA regulations and new challenges that health care offices and facilities face.
Why Do Health Care Organizations Need an MSP?
Most health care organizations invest significantly in technology to help them increase the quality of care they provide while reducing costs and securing a competitive position in the market. However, with these helpful technologies comes the responsibility of securing data while meeting government compliance standards. Working with an MSP allows your organization to focus on what you do best while IT experts address your technology and security needs.
Here are just a few of the ways a security-focused managed service provider will help protect your health care organization:
1. Maintain Compliance with Government Regulations
The level of scrutiny over IT performance and security in the health care industry has never been greater. With the transition from paper documentation to electronic medical records, health care organizations need to ensure that they have the IT security measures in place to protect patient data according to the regulations put forth by HIPAA.
A good MSP will work to ensure that your organization not only meets government requirements, but is also protected from downtime, hackers stealing your patient data, or a cybercriminal using social engineering to trick a staff person into wiring them money. An MSP will stay on top of the latest cyber security developments and suggest ways in which to protect your organization.
2. Protect Private Patient Health Care Data
Whether your organization is a multi-office physician practice, large hospital, or small nonprofit provider, you need to maintain effective security measures to protect private patient data. Here are just a few of the security measures an MSP can implement to protect your organization:
Developing a well-defined process for creating users and permissions
Implementing effective and secure password policies for users
Encrypting data and drives on mobile devices
Ensuring that multiple individuals are not sharing user accounts
Conducting periodic audits for security vulnerabilities
Training staff to recognize security breach attempts — like phishing scams
Making sure that vendor systems have secure access with limited permissions
Ensuring your organization has adequate data backups stored in different physical locations that are monitored and maintained.
3. Formalize Your Organization's Data Policies and Systems
Health care organizations need to make sure that they have formal data policies and systems in place to comply with government policies. Formalizing your organization's data policies and systems requires you to have a clear-cut incident response plan that details what your facility or office will do in the event of a data breach or other IT issues. Your MSP will not only help you develop a comprehensive IT incident response and recovery plan, but also play a pivotal role in implementing the required steps if an incident occurs.
In the event of a data breach, your organization will also need to prove that you took every step possible to keep your system secure and protect your data. This requires an adequate level of documentation and provability. Your managed service provider will help you to put documentation and reporting capabilities in place so that there is a formal process for protecting data and the end users who have access to this data.
How CoreTech Can Help
The team at CoreTech uses the knowledge and experience they've gained from helping health care organizations over the years as well as their knowledge of proven security tools to avoid potential threats. Not only do we make sure that you remain compliant with current regulations, but we help you look to the future to ensure that you're staying ahead of new threats as they arise.
When we serve as an MSP for a health care organization, we work with third-party providers to audit the system and security measures to make sure that the organization doesn't have any vulnerabilities. As IT professionals, we understand the necessity for external audits to ensure that the organization is secure from potential threats. Once the audit comes back, our team will work to help implement any changes or improvements necessary to keep the health care organization safe and secure from cyber attacks.
Want to learn more about whether an MSP is right for your organization? Let's chat.