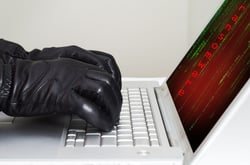 Ransomware attacks will double in 2017, and it is important for your business and staff to remain knowledgeable on what to look for. In addition, remaining alert and hesitant to what you click on is important as well. Learning all you can about the malware, what it is, how it gets in, and how to avoid it, will be crucial steps to keeping your data safe.
So exactly what is ransomware? It is malware which encrypts the victim's data and demands payment for the decryption key. If not caught right away and stopped, it can spread throughout your network and encrypt all your business data. There are only two ways to fix the situation once the malware has spread. First, restore your systems from a backup, and second, pay the fee. Do you know which path you would take in the event the malware encrypted your data? Do you know how long it would take to retrieve your data if you do have a backup? This is important information for your business and staff to know.
How does ransomware get in? Phishing emails and malicious downloads/links is what introduces the malware to your PC and network.
How do I recognize these emails and downloads/links? We have a number of different avenues for you to learn about what to look for. To get you started, take a look at some of our past posts, including: The anatomy of a phishing email and Protect yourself against ransomware (crypto) and other threats. These articles are just a start though, another article to read is 10 tips for spotting a phishing email.
Staff training is fast becoming a great way to build knowledge and awareness within your organization. It arms everyone with the information they need to protect themselves. Check out our blog post: 6 reasons to train your staff on the security basics. And be certain to check out the "In-House Training Info" button at the bottom of the blog post. CoreTech will come onsite for a lunch and learn if you have eight or more staff you would like to train.
New Cybersecurity web page. CoreTech recently developed a web page which will keep you updated and educated on current threats. In addition, it contains information that will help you avoid threats on an ongoing basis. Visit the page at coretech.us/cybersecurity-awareness
Does your business need assistance, training and tools to fight the battle with cyber criminals? Contact us today at info@coretech.us.
Resources:
http://www.inc.com/bill-carmody/top-3-security-threats-in-2017-and-how-to-handle-them.html
http://whatis.techtarget.com/definition/ransomware-cryptovirus-cryptotrojan-or-cryptoworm