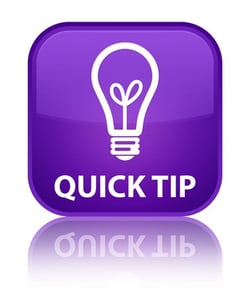 Save time searching for e-mails by creating custom search folders that include your specified criteria!
Isolating messages with key phrases or peoples' names can save the time and hassle of searching. Search folders continually gather messages using your specified criteria, and now you can view all of these messages in one place, even if they are filed in various folders.
For example, if your folder seeks messages regarding a person, topic or specific email (whether they are from that person or the e-mail just mentions their name), the email will begin to populate within that folder.
You can also use this tool to organize your e-mails regarding a company project. By naming the project in the search criteria, you can easily keep track of all related e-mails, without having to manually search for and place them into a specified folder.
By organizing your e-mails this way, you can decide what comes directly into your inbox and what goes to specified folders. This saves time in locating an e-mail, as well as helps you decide what to view now in your inbox versus what can wait for later.
Another example using this approach: you can decide to send all newsletters you receive from vendors or other companies to a specific folder, thus cleaning up your inbox and saving this reading for another day or time when you are able to keep up on your news.
Creating custom search folders:
1. Click onto the "Folder" tab in Outlook and select "New Search Folder."
2. Select "Create a custom Search Folder."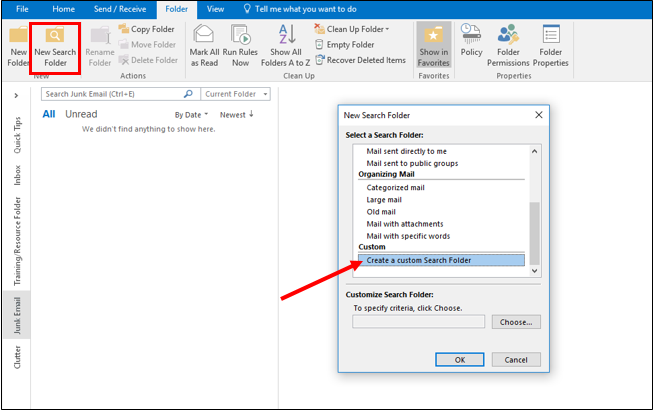 3. Select "Choose…" and name your folder (Ex: Quick Tips).
4. Select "Criteria…"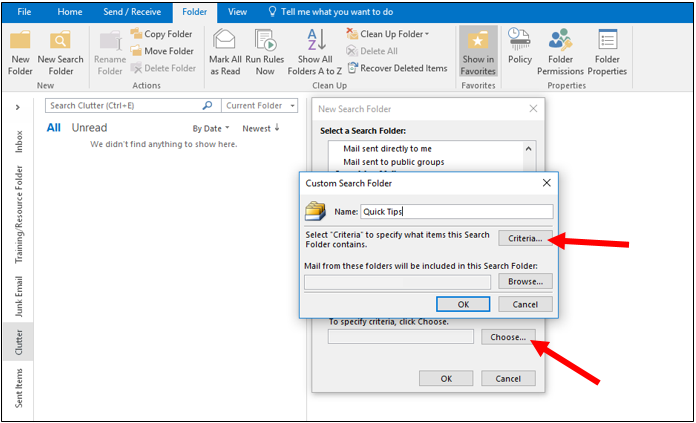 5. In the "Search for the words(s):" box, type the words that Outlook should be looking for when sorting your mail into this folder (Ex: Quick Tips).
6. Select "subject field and message body" to scan the entire e-mail for key words.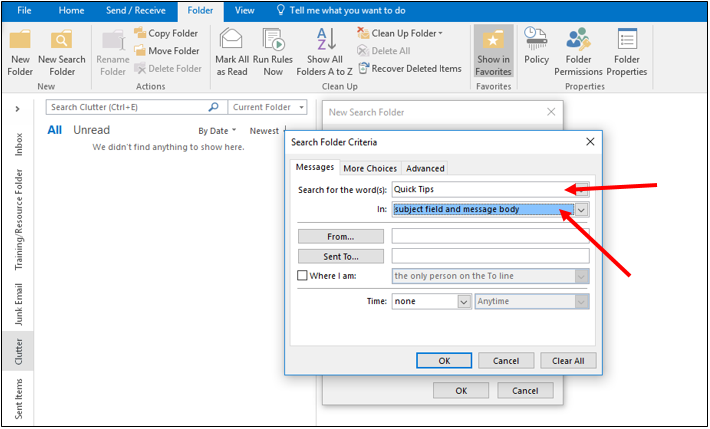 7. Your folder will now be located on the left-hand side with your other folders, and will contain e-mails (past and future) that mention your specified search words in the subject and/or message body.