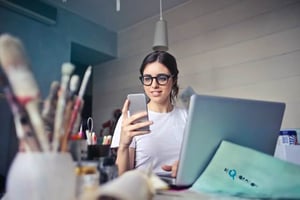 Omaha is home to over 45,000 businesses, and it's not surprising, considering we enjoy a winning combination of moderate taxes, low cost of living and high quality of life. In fact, more than 20 Omaha businesses are among the 5,000 fastest growing businesses in the nation.
Meanwhile, with Lincoln making "top 10 cities" lists for Business Climate and Best Cities for Young Professionals, and even #1 Happiest Cities, we are certainly primed for more economic growth in Nebraska.
Your technology systems should support business growth, but when they aren't working like they should, the opposite can happen, and you may find your IT issues becoming a drain on your internal resources. This is especially taxing on a business in growth mode.
A trustworthy local outsourced IT provider can ensure that your business implements the best solutions for your particular needs, and keeps those systems running smoothly so your people can focus on what matters most — your business and your customers.
Outsourcing IT to a Local Managed Service Provider
Why outsource your Omaha or Lincoln company's IT to a local managed service provider? In short, to prevent IT headaches and enable business growth. CoreTech, a local company backed by decades of expertise, manages IT with a multifaceted approach that incorporates proactive services to protect your systems and prevent problems.
You'll get proactive conversations, suggestions and inquiries from us so we can learn about your business and help you grow. We bring knowledge from our work with other clients in your position, and that gives us the ability to resolve your issues faster.
If problems do occur, our experts first work remotely with you to troubleshoot. If we can't take care of it quickly during a remote session, we'll come onsite to handle the issues in person. We have people in the office at all times during business hours, and emergency after-hours support is available as well. Our clients can communicate problems to us in a variety of ways, like using an online form, filling out a request ticket or even making a simple phone call.
Planning for Business Growth
Most small businesses and companies don't have a technology plan or road map in place. CoreTech works with clients to look ahead and plan IT systems so that they will scale well when your company grows to three or five times its size. We have the know-how to guide you in the right direction for business growth in Omaha and Lincoln, and other nearby markets.
With CoreTech, you are assigned an account manager who will work to understand your company, what differentiates you from your competitors and your pain points. We will bring to you opportunities that we feel will help you further your business. We won't pitch everything to you, just what we truly think will support your growing business.
Top 5 Tips to Scale IT in Support of Company Growth
1. Leverage cloud services as much as possible
Owning technology is no longer necessary in many cases — and the cost of owning physical technology only grows as your business grows.
There are more security concerns and a variety of other issues can come into play with onsite IT solutions. Realistically, your IT budget will go up every year, which means your budget should be expanding. Owning less technology by leveraging cloud services or a hybrid of onsite and virtual IT solutions can reduce the cost and worry.
2. Don't buy low-quality technology
Buy technology that's robust enough to last you a reasonable amount of time. Buy a step or two higher than what you think you need right now, so it doesn't inhibit your productivity. A slow computer will cost you more in productivity in the long run.
3. Real security won't be "set-it-and-forget-it"
Your system security should be maintained and monitored on an ongoing basis. And you shouldn't use just one security product, but rather a layered, comprehensive set of solutions. After all, every small business is a target!
4. Technology subscriptions with monthly fees offer flexibility and scalability.
Don't buy a system that will accommodate 50 people when you just have 12 today. While you may expect to be at 50 employees a year down the road, it's more cost-effective to pay as you go.
5. Find a local IT service provider to partner with.
Choose an IT advisor who knows the local market, and who can grow with you. While you may need to switch some vendors as you scale your company, having the right IT service provider in your corner means that you'll be well served now, when you have just a handful of employees, and later, as your company and it's IT needs grow.
While some IT partners prefer not to work with small businesses, such as those under 25 users, we help support Omaha, Lincoln, and businesses in the surrounding area, whether they have five users or more than 100.
Contact us today to get started.